The top public health officer says loneliness is harming Americans' health. Here's how employers can fight back.
The U.S. is facing an "epidemic of loneliness and isolation."
That's the warning from Dr. Vivek Murthy, the surgeon general.
"About one in two adults in the U.S. experience loneliness," Murthy wrote in an advisory released in May.
This loneliness has significant health risks.
"The mortality impact of being socially disconnected is similar to that caused by smoking up to 15 cigarettes a day, and even greater than that associated with obesity and physical inactivity," Murthy wrote.
What is loneliness?
Murthy defines loneliness as "a subjective distressing experience that results from perceived isolation or inadequate meaningful connections."
Loneliness is not to be confused with solitude, for example. A person can be alone, but not feel lonely. Nor is loneliness the same thing as social isolation, though the two experiences are related.
Social isolation is the lack of relationships, group membership, or other forms of social interaction. Loneliness is a subjective internal state.
Loneliness at work
Just because you have a job doesn't mean you are finding connection at work.
Just two in 10 employees in the U.S. have a "best friend" at work, according to Gallup. In data from health insurer Cigna, loneliness increases according to demographic factors like age, gender, ethnicity, and income.
"We all want to know that we belong somewhere. We want to know that we're accepted. We want to know that we're seen." - Jen Fisher, chief well-being officer, Deloitte
People from underrepresented groups are more likely to be lonely, with 75% of Hispanic adults and 68% of Black adults reporting loneliness. Lower income workers are lonelier than higher income earners. Young adults are more likely to be lonely than seniors.
Added to the picture is the advent of remote work and the aftermath of the COVID-19 pandemic.
A pre-pandemic study by organizational psychologist Lynn Holdsworth showed that full-time remote work increases loneliness by 67%.
In Great Place To Work® research, remote workers are less likely to feel like they make a difference, and only two in three remote and hybrid workers said they could be their true self at work.
Taking action
Before launching any programs to combat loneliness in the workplace, start by asking workers what they need.
On the "Better" podcast, Jen Fisher, chief well-being officer at Deloitte, shared questions to ask before starting a well-being initiative.
"The No. 1 and lowest cost thing that you can do — because there's no cost to it other than engaging with people and getting a little bit of their time — is asking your workforce, 'Hey, what do you want? What do you need? What would be meaningful? What are the barriers in the way of you doing these things for yourself, or taking advantage of the things that the organization is providing you?'"
The answers you receive could help avoid misdirecting funds into programming that employees won't use.
"It's really powerful to engage your workforce in this type of conversation," Fisher says. "Because even if you don't do exactly what they ask you to do, the simple fact that you asked them what they thought and what they needed goes a long way."
A focus on belonging
Many organizations are focused on belonging to try and create connection between employees.
World Wide Technology, as part of its diversity, equity & inclusion strategy, has implemented a storytelling program to help employees connect. As part of its efforts, Accenture has focused on belonging to ensure that every employee feels valued and connected.
Employee resource groups (ERGs) have become a core part of how many organizations think about helping employees connect with one another.
Visa developed a partnership with its Return to Office team to hold ice cream socials on the third Wednesday of every month. Attendees can visit booths for each of its ERGs, and sign-up to become a member.
The ice cream socials offer a clear example of how companies can incentivize workers to build relationships with each other without forcing the issue. And Visa says the regular events have been successful in not only increasing ERG participation, but also raising awareness about the role of its ERGs across management and leadership teams.
"The mortality impact of being socially disconnected is similar to that caused by smoking up to 15 cigarettes a day, and even greater than that associated with obesity and physical inactivity." - Dr. Vivek Murthy, surgeon general
Friendship in the workplace isn't a frivolous side show. When employees have friends at the office, they're more engaged, more productive, and more likely to stay with the organization.
"It's a sense of belonging," says Fisher. "If I connect with another human being, I feel like I belong at the organization, and that's what we all want. We all want to know that we belong somewhere. We want to know that we're accepted. We want to know that we're seen."
The importance of onboarding
It's crucial that employees feel welcome when joining the organization. According to Great Place To Work research, employees who are made to feel welcome when joining a new team are:
60% more likely to feel their job is meaningful
2x more likely to have well-being
A warm welcome is also a crucial employee experience during economic downturns. When employees feel welcomed, their organization is more resilient during recessions.
For many organizations, a new hire buddy program is an important opportunity for employes to build relationships within the organization.
At Tanium, new hires are paired with a buddy and a mentor. On day one, new hires meet with both the mentor and the new hire buddy, as well as their manager. Their buddy is a resource for any questions, a facilitator of connections, and an additional support to ensure new team members are having a positive onboarding experience.
Mentors at Tanium play a different role, working to familiarize new hires with role-specific nuances, and new hires often shadow their mentors in both internal and external meetings.
At PulteGroup, every new hire is assigned an onboarding experience partner. These special ambassadors can come from any role level or department of the organization and serve on a volunteer basis.
A new hire's onboarding partner meets them in-person on their first day and guides them around the facility, introducing people in every department and familiarizing them with the workplace.
Remote connections
When employees don't all commute to a central location, it's harder to form close relationships. Many companies focus on remote onboarding, but how can companies continue to reinforce those connections once onboarding ends?
At Atlassian, a peer-to-peer recognition program called "Kudos" is one answer. The program allows employees to nominate their colleagues for their efforts and recipients receive gift cards, books, specialty beverages, and more.
When employees are able to recognize one another, relationships and their importance to the organization are reinforced.
Again, it's important to ask employees what they need. Deloitte's Fisher recommends asking the team: "How can we support one another? What do we want our team behaviors and norms to look like?"
This is when teams can set expectations around standard working hours and communications tools. Setting expectations allows team members to log off while still feeling connected to their colleagues. When norms aren't communicated, employees are left to worry about what they might be missing when they aren't sitting at the computer — which can exacerbate loneliness.
A priority for leaders
At the best organizations, leaders make it a top priority to connect on a personal level and build relationships with employees.
At Wegmans, one-on-one listening sessions are part of a wider push for all managers to build relationships with employees. "Relationship building" is on the performance plan for all division leaders and store managers, and weekly, informal conversations with employees are encouraged.
The relationship goes two ways, too. When employees feel like they belong, they are more likely to innovate and give extra effort.
Survey your employees
Do your workers feel a sense of belonging? Benchmark your employee experience against the best data available with Great Place To Work Certification™.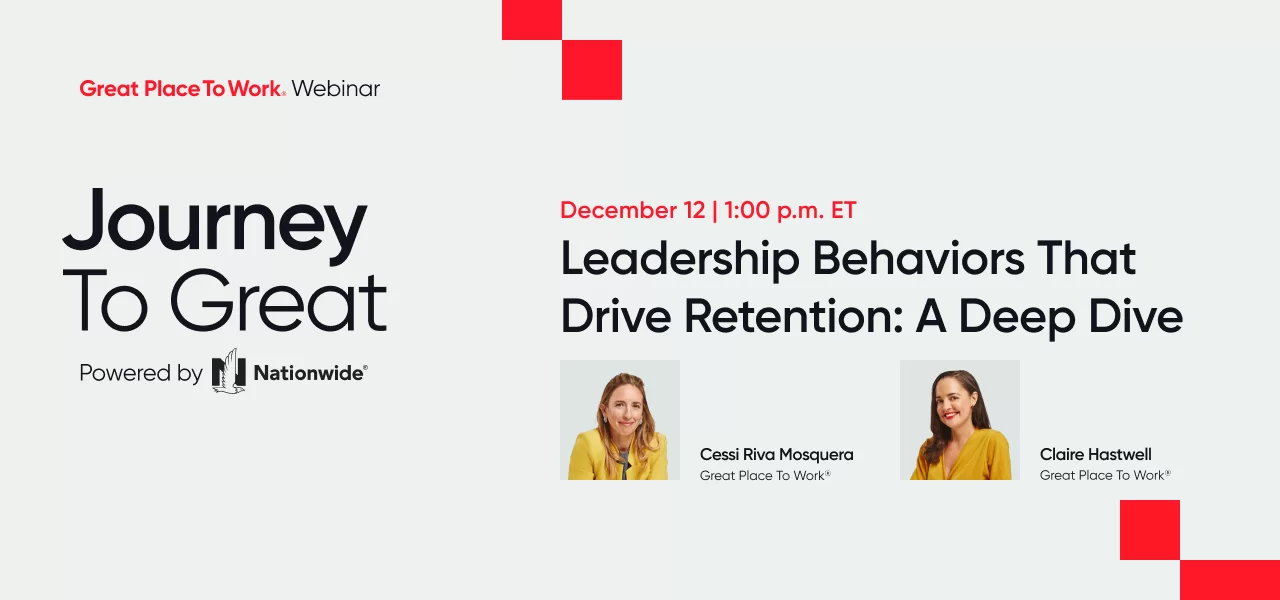 ---