Here's what leaders from Cisco, Target, Hilton and Accenture are doing to build trust and connection with employees.
For businesses facing the challenges of 2022—rampant inflation, a looming recession and the ever-present COVID threat—the most powerful tool in their arsenal is workplace culture.
When legendary management consultant Peter Drucker quipped "culture eats strategy for breakfast," he epitomized what sets great businesses apart. All the strategies and business plans in the world are no substitute for a collaborative and supportive workplace.
For leaders looking to weather the storms ahead in 2022, considering the employee experience is a crucial step. If you're wondering about your efforts to support and celebrate employees, take your cue from leaders with companies atop the Fortune 100 Best Companies to Work For® list.
There are no shortcuts to becoming a great workplace, as Michael Bush, CEO of Great Place To Work® shared with a virtual roundtable led by Fortune CEO and Publisher Alan Murray earlier this year. The conversation with leaders from Cisco, Hilton, Accenture and Target offers key takeaways for what drives exceptional employee experiences today:
While the CEOs participating in the discussion helm large companies with thousands of employees, Bush argues the lessons apply no matter what size your organization is.
"If you're out there with 30 employees, you should be listening to what these leaders are saying," Bush shared with the virtual audience. "There's no excuse … the stuff we're talking about—none of it's expensive."
The CEO roundtable provides a roadmap for executives looking to create exemplary employee experience for the rest of 2022 and to safeguard their organizations against an uncertain economic future:
1. Connect employees with purpose.
A great employee experience is built on the belief that employees believe their work has meaning: "This isn't just a job."
For Chris Nasetta, president and CEO of Hilton, No. 2 on the 100 Best Companies list for 2022, helping redefine a brand purpose was the secret to reviving a stagnant employee experience.
Nasetta described Hilton on his first day 15 years ago: "We were well established, we were big, we were global," he said—and not close to making a Best Workplaces list. The brand purpose that had been the vision of Hilton's founder 100 years earlier was no longer accessible to most workers.
"We had lost our way," Nasetta said. "Our culture atrophied; performance followed."
Nasetta and Hilton set out to recapture the brand's original vision of making the world a better place by giving people safe places to stay around the world, and as a result foster cultural exchange, build awareness and understanding, and open up the world.
Reconnecting with that purpose made all the difference for Hilton's workforce, according to Nasetta, both in workplace morale and in service provided to customers. Data also shows that companies that connect employees' jobs with purpose have triple the retention rates of their competitors.
"Ninety-eight percent of our people are on the frontline working very difficult jobs," Nasetta explained. "If they don't feel some connection to something bigger than them … then they really don't give it their all, which means we're never going to deliver the service we need to."
2. Build connection for a dispersed workforce.
For Julie Sweet, chair and CEO for global consulting firm Accenture, No. 6 on the 100 Best Companies list and an organization that hasn't had physical headquarters in three decades, the answer is in pursuing connection.
"We actually moved from conversations about spaces and places, which we still find is a lot of what people think about with the hybrid workforce, to what we call 'omniconnections,'" Sweet said. Accenture's innovation was to have its expected 150,000 new employees this year connect in the metaverse.
This investment in virtual reality is an acknowledgement of the missing piece of the onboarding process for new hires.
"We needed to create a new way to have an experience together, to learn together, that was not simply on screens," Sweet said.
Building your own metaverse office might not be a practical solution for your team, but focusing on connecting co-workers in new and innovative ways doesn't have to cost a fortune to be a priority.
In Great Place To Work's research, connection is shown to be an essential element of employee well-being. In the hybrid work reality of 2022, finding ways to promote social relationships can help reduce stress levels for employees and build psychological safety among teams.
3. Trust workers with flexibility.
The great remote work experiment of the pandemic era isn't over. And while some are calling for a forced return to the workplace, the best work cultures have embraced as much flexibility as they can.
As a hotel chain, Hilton can't shift its operations to remote work. "We can't serve customers, we can't clean rooms, we can't cook your breakfast, we can't host your events without people there," Nasetta said.
But that doesn't mean Hilton can't pursue flexibility for its people.
"People's lives have changed, not just because of COVID," Nasetta said. "People's needs have changed over the last decades. And I don't think our industry has kept up with it."
To meet the needs of its people, Hilton is looking to change how it operates. "The biggest takeaway … for us is just being much more innovative and flexible on scheduling," Nasetta said. "In the field, we've gotten very, very flexible."
Chuck Robbins, chair and CEO for IT solutions firm Cisco, No. 1 on the 100 Best Companies list, sees offering flexibility to workers as an issue of trust.
"We completely leave the decision up to the first-line manager and the team itself," said Robbins of the decision to work remotely or return to an office. Trusting employees to decide for themselves how they can have the greatest impact has improved morale and retention.
"Our attrition is probably about half the industry rate right now," Robbins said.
The trust that enables flexible work is driven by authentic communication and setting clear expectations with employees.
"The one thing that really stood out for us was [that] we really drive frequent, honest, authentic communication with our teams," Robbins said. For Cisco, that means setting expectations with managers while their teams are also in the room.
Robbins shared how managers had to reset expectations for parents when schools and daycares closed during the pandemic and workers had to scramble to cover childcare.
Cisco's message to managers was clear: "Just because you want to have a meeting at two o'clock in the afternoon, if the 3-year-old child needs attention, then the person can't make your meeting and you're going to have to recognize that."
4. Listen beyond pulse surveys.
For Brian Cornell, CEO and chair of Target Corporation, No. 12 on the 100 Best Companies list, the secret to building great workplace culture is deep listening.
When Cornell and his team first started thinking about a return to the office for corporate staff after the height of the pandemic, listening guided the plan: "We quickly started listening to our teams, and realized we had to be really focused on being a progressive employer that was going to create an environment for the next generation of team members," Cornell said.
A culture of listening has enabled Target to connect employees to its brand purpose—and the results have been remarkable. "Our turnover numbers have never been lower," Cornell shared—even as the retail workforce has faced immense challenges due to COVID-19.
"I found it so important to listen and I think that's allowed us to meet the needs of our team members and really avoid the great resignation," Cornell said.
Show your mettle by making a Best Workplaces list
To find out how your company can become Great Place To Work-Certified and apply to make the Fortune 100 Best Places to Work For® list or another of our industry-leading lists, contact us.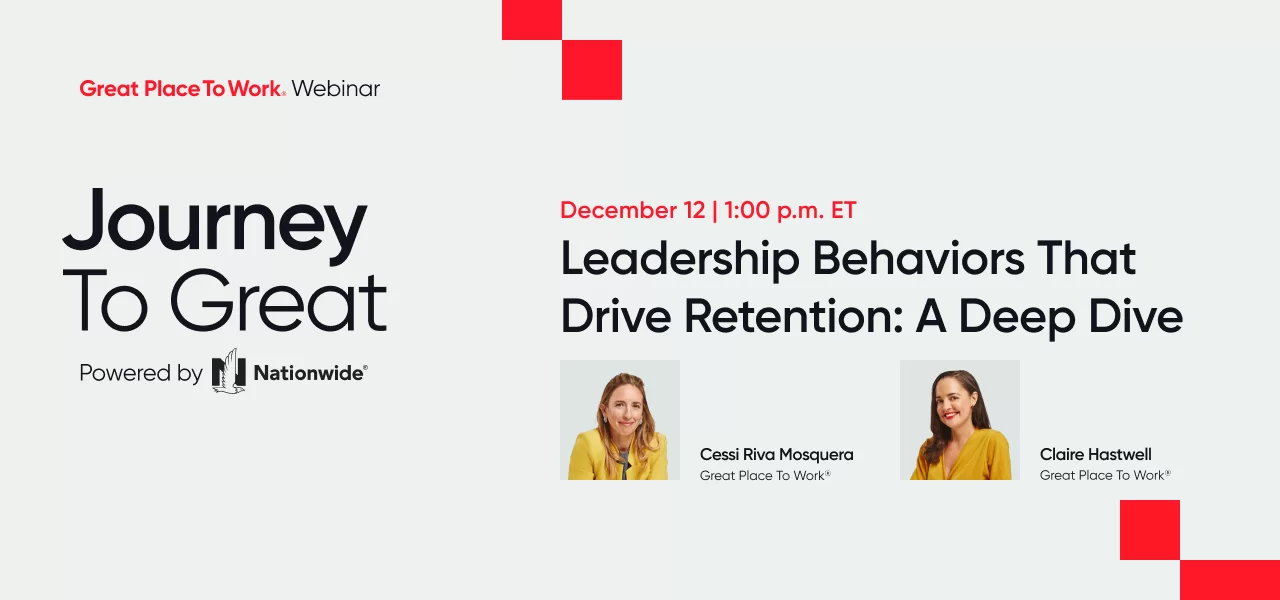 ---