Image: Capital One employee volunteers distribute food and supplies to the community during racial justice protests in Minneapolis.
In an industry that might seem cold and more about taking than giving, a surprising thing happened at some of the Best Workplaces in Financial Services & Insurance™ amid the crises of the past year. Employee scores went up when it came to whether work had special meaning.
What changed?
Put simply, the Best Workplaces in this industry rose to the occasion in terms of serving their communities—and employees took notice.
Two companies on the recent Best Workplaces list demonstrate the way financial firms showed great heart during a year in which many people were hurting. And the actions of Nationwide and Capital One boosted employees' sense of company pride and purpose in the workplace.
Why did employee experience soar at Nationwide?
Nationwide employees saw the mutual insurance company walk its talk of being "on your side" – in this case, the side of communities hit hard by COVID-19 and racial injustice.
They saw their organization contribute millions of dollars to the Red Cross and other COVID-relief efforts. They saw Nationwide donate millions more to groups working on racial equity and fair housing. They saw it launch a task force – composed of employees at every level – to enable the company to push for a better, more inclusive America.
A dramatic gain of 10 percentage points on the Great Place To Work Trust Index™ employee survey in 2020 was partly about the company living up to its mission and values in a difficult year, says Gale King, executive vice president and chief administrative officer at Nationwide.
Gale points to how Nationwide responded to the killing of George Floyd in May, with actions that included a "unity day" of conversations on race and a series of talks from prominent civil rights leaders representing perspectives across government, academia and community-based organizations.
"Our associates believed we would do the right thing," Gale says. "And we lived into it."
In 2019, Nationwide refreshed its mission statement to be: "to protect people, businesses and futures with extraordinary care."
Of 2020, Nationwide CEO Kirt Walker says it was a "double-A" year. "It was awful and it awesome," he says. "The entire year was challenging, and I'm pretty proud of how we managed through it."
As part of the 10-point increase in overall employee trust levels – to 92% – scores for the statement "I feel good about how we contribute to the community" rose 4%, to 95%.
That pride had much to do with Nationwide's big-hearted, nation-wide response to the COVID crisis. The company's foundation provided $5 million in grants to support the American Red Cross, Feeding America, United Way and local organizations.
As the economy cratered thanks to the pandemic, Nationwide also looked out for its policyholders. It was one of the first auto insurers to provide relief to customers, with more than 1 million personal auto policyholders receiving a $50 premium refund.
One Nationwide employee told us: "We stress the noble purpose of our work and our values. Big commitment to supporting community through donations and support of volunteerism."
Nationwide takes aim at social justice
Nationwide also took action in the wake of the murder of George Floyd. It committed an additional $1 million to social justice organizations – including the NAACP Legal Defense Fund and the Equal Justice Initiative – and $1 million to the National Fair Housing Alliance.
In response to requests from employees, Nationwide also changed its program for matching employee donations to charities. It widened the pool of eligible matching grants to include organizations focused directly on social justice.
In addition to its "unity day" of inviting conversations about racial injustice, and its program to bring in civil rights speakers, Nationwide formed a social justice task force that is exploring ways for the company to contribute to a more equitable America.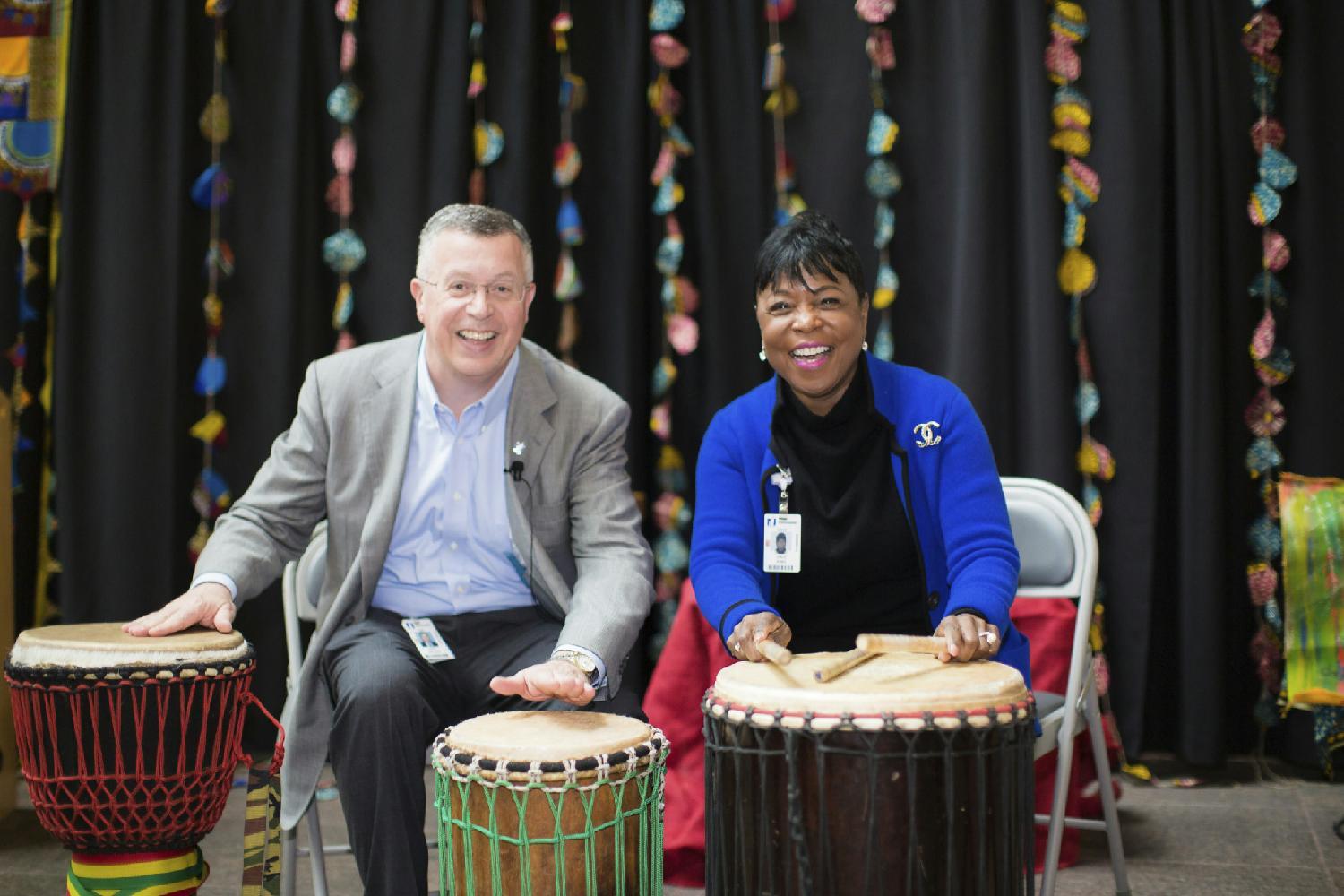 Image: Kirt Walker, CEO and Gale King, executive vice president and chief administrative officer at Nationwide.
Amid all these efforts, the experience of Black employees at Nationwide improved markedly in 2020. Trust Index scores for Black employees rose 9 percentage points, such that 92% of Black employees now say it's a great place to work.
For comparison, at the average U.S. workplace, just 49% of employees across demographic groups say theirs is a great place to work. Nationwide's Black employee scores on the question of whether "my work has special meaning" rose a remarkable 16 points, to 90%.
Gale says the increases reflect the way Nationwide amplified its longstanding commitments on issues of racial justice. "They didn't see many of their peers' companies doing what we did," Gale says. "We accelerated our work in support of social justice, building on a foundation that has existed for decades."
Capital One employees heap praise on their benevolent workplace
Credit card provider and financial services firm Capital One stood out in 2020 for putting its money where its mouth – and mission – is.
Capital One says it's "on a mission to change banking for good," and employees rallied around the company's extensive support of communities last year.
In March, for example, the company announced a $50-million donation to long-standing non-profit partners struggling to pursue their core missions in the face of the COVID-19 pandemic.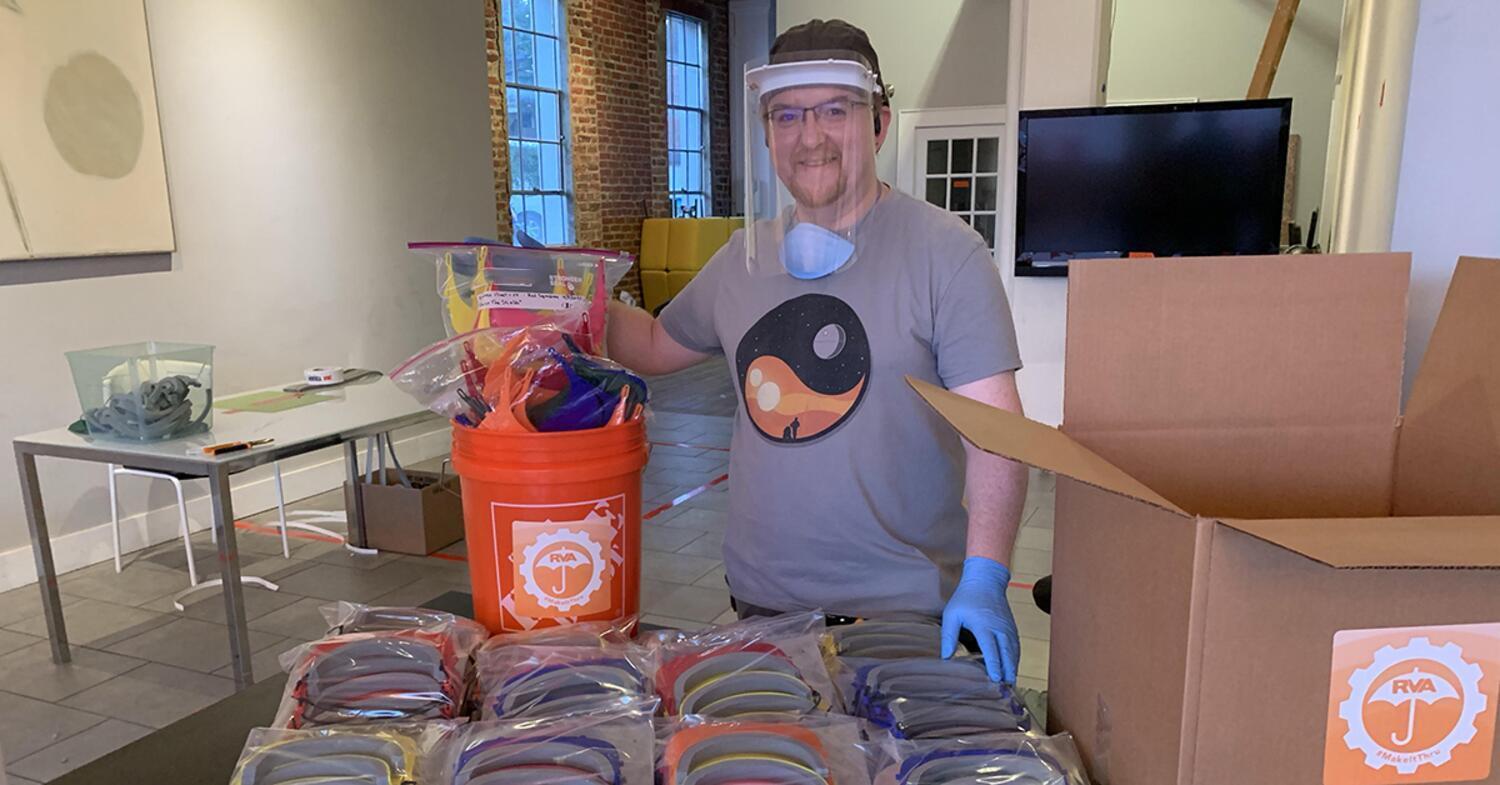 Image: A Capital One software engineer, whose experience with Open Source Medical Supplies helped enable a community response to a plastic face mask shortage at local hospitals
What's more, the company launched the Capital One Impact Initiative – a $200-million multi-year commitment to spur economic growth in low- and moderate-income communities and close gaps in equity and opportunity.
Amid these philanthropic gifts, employees repeatedly used the word "community" in their survey responses when telling Great Place To Work what makes Capital One's culture great.
One Capital One employee told us: "They don't just give corporate grants to the community, they also serve. For example, during [the] COVID crisis, a local homeless shelter was in need of support. The company and associates made lunches every Tuesday, wrote notes of encouragement, and donated paper products. They put their money, time and effort into being a great community partner and in the end, that makes associates proud to work for the company."
Pitching in and employee pride
Meghan Welch, executive vice president of human resources and chief diversity, inclusion & belonging officer at Capital One, agreed that all the giving back boosted pride among employees, who also stepped up their community service.
"Our associates' sense of purpose grew as we reimagined how we served customers at a time when our communities were feeling the effects of the COVID-19 pandemic, the economic downturn due to job loss and the global call for racial justice," Meghan said.
"As our teams worked hard to keep our communities safe, we were heartened to see associates, contractors and partners come together to take swift action to help others. Whether that be through making donations to homeless shelters or our work to bridge the digital access gap and provide laptops for children, our associates plugged into their communities to create a positive impact."
Another Capital One employee stressed their pride at the way the company responded to the Black Lives Matter protests in the wake of George Floyd's killing:
"We're often bringing outside conversations to our workplace. Currently with the BLM movement especially. I often feel like we're on the right side of history and that gives me hope as we're such a large company with potential for community impact."
How does your company stack up on giving back?
Is your company also excelling when it comes to community service in these difficult times? Are you seeking tools and guidance for raising your giving-back game?
Apply to get on a Best Workplaces list.
Get our newsletter for more examples of best practices from Best Workplaces.


---