Whispering sweet nothings? Employers need to do more than pretty promises to beat the hiring crunch.
On a recent trip to Austin, Texas, I walked down buzzy South Congress Street and noticed something different from the restaurant strips of San Francisco where I live.
Austin has been ahead of SF with its reopening, and shopfronts down South have swapped signs that read "open for curbside pickup" with sweet-talking "we're hiring" messages. It seemed like every other business was pulling out all the stops to recruit employees.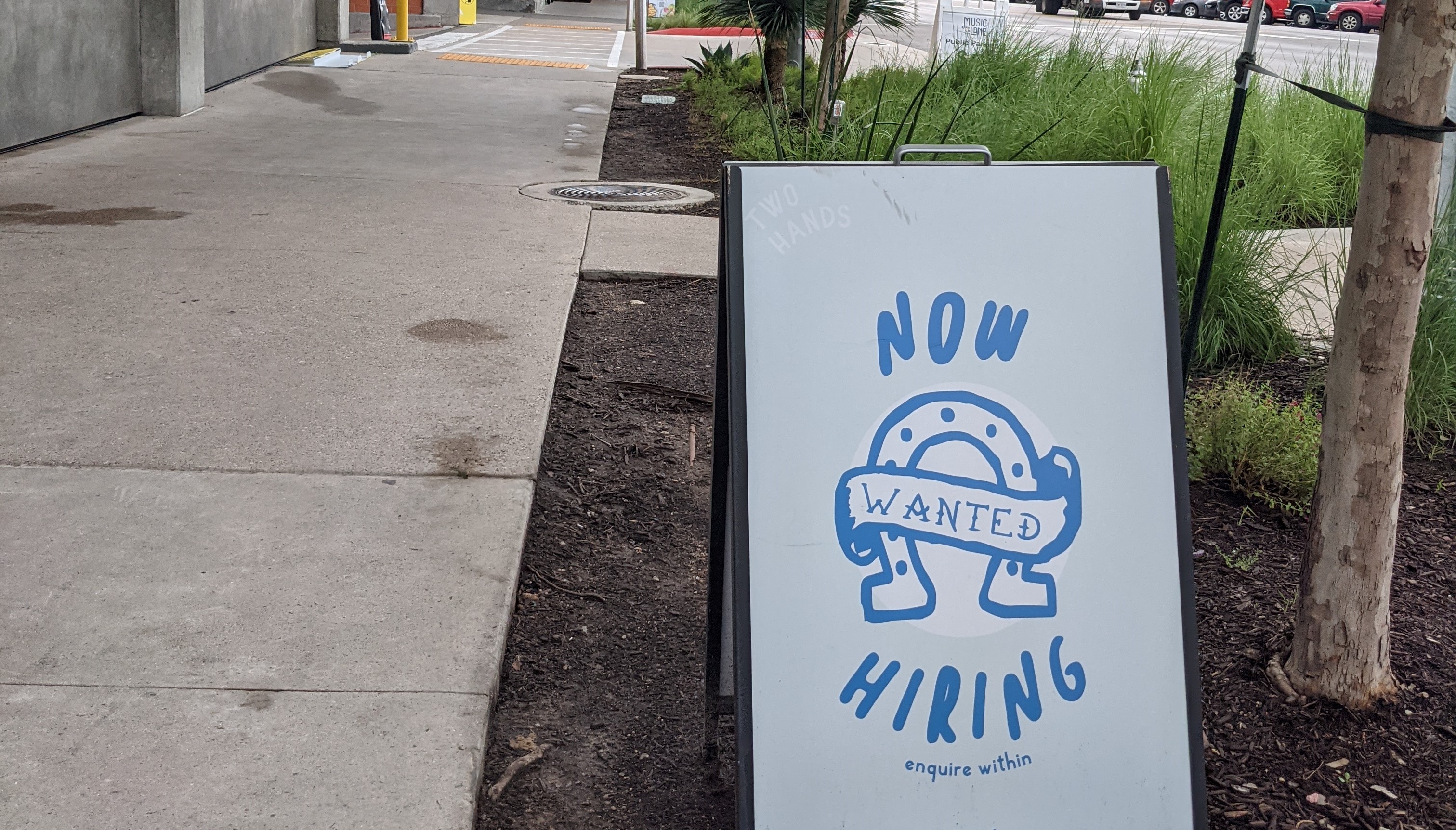 Image: Austin TX is hiring, but are people looking?
On June 8, the U.S. Bureau of Labor Statistics announced the number of job openings reached a series high of 9.3 million. After more than a year of pandemic-induced layoffs and downsizing, it appears the job market is now hot.
But while some may be quick to credit stimulus packages for this uptick, the data tells us the reasons run deeper – and they aren't all positive.
That's because while both hires and layoff levels stayed flat, the quits level increased to a series high of 4 million. The highest quit levels were seen in the hospitality and retail trade.
Rather than the result of new job creation, these record levels of openings are likely due to record levels of job leaving. In the aftermath of COVID-19, businesses, particularly those in the service industry, are struggling to retain existing employees and attract new talent.
Why are service workers quitting?
Part of the problem is poor working conditions. Take the food service industry, which laid off 5.5 million employees at the start of the pandemic and is typically characterized by low pay (the US federal subminimum wage for tipped workers is only $2.13 an hour).
In a survey of 3,000 hospitality workers across the country by the Food Labor Research Center at UC Berkeley, 53% of people surveyed said they're leaving the industry because of low wages and tips. And 78% – nearly 8 out of 10 workers – said the thing that would make them come back to work in restaurants is a full livable wage with tips on top.
"It's a wage shortage, not a labor shortage" – UC Berkeley Food Labor Research Center.
While some industry analysts have argued that service workers are simply preferring to stay home and collect unemployment insurance, most tipped workers reported in the survey that they either could not access those benefits or received much less in benefits than they needed because their tips were not recognized as income.
The service industry has always had one of the highest turnover rates in the labor market, even pre-pandemic. But now, as restaurants and retail re-open to a population eager for public dining, shopping and more, those employers are also facing a workforce that's fed up.
Tipped restaurant workers, who are over two-thirds women, reported facing dramatically increased health risks and harassment in restaurants during the pandemic.
For workers who are forced to rely on tips to earn a living wage, enforcing COVID-19 safety protocols on potentially hostile customers, who may then withhold tips, is a nearly impossible expectation. Tipping culture is sexist, racist and degrading.
Ask yourself: would you want to work in an industry that generates five times the average number of sexual harassment claims per worker?
Across the pond, UK employers are also complaining of labor shortages. And as The Economist points out, "For the first time in decades, bargaining power is shifting from firms to low-paid workers."
Our own research tells us that businesses need to do more than butter up candidates with free lunches.
How to beat the hiring crunch
Last year, Great Place To Work reported on how supporting five key employee groups – including women, people of color, hourly male workers, long-tenured employees and frontline workers (many of the people in the service industry) — is key to seeing your business come out the other end of an economic downturn.
It's little surprise that the data is telling us the same thing today — treat these employee groups well or risk losing them.
Low-wage workers are key to economic recovery
Now, some businesses are turning to desperate measures to hire and keep workers, offering everything from tuition subsidies for employees and their family members, to free appetizers for interviewees.
"For the first time in decades, bargaining power is shifting from firms to low-paid workers."
If only they'd read our recession recovery report, they'd realize that while such perks are nice to have, they don't hit at the root issues of support and fair compensation. In fact, our research found that for these key employee groups, there are also five vital aspects of the work experience that have nothing to do with perks:
Employees feel treated as a full member of the organization
Management follows through on promises
Promotions are fair
Employees are welcomed when joining new teams
Everyone in the organization feels included in finding new and better ways of doing things
Our research shows that businesses that both support these five key employee groups and deliver on these five key experiences are more likely to thrive during a recession.
That's because these employee groups are typically the first to feel the pain when a business is in trouble. When their experience is positive, the overall experience of all employees is likely to be positive.
As employers struggle with a mass exodus of frustrated, underpaid and under-appreciated workers, the solution may be as simple as going back to basics: fair wages and supportive leadership. Flashy incentives make for great PR but aren't necessarily the answer to keeping employees for the long haul.
How are job seekers judging you?
Great Place To Work Certification™ is a way for job seekers to size-up employers through the lens of their employees. Because employees determine the rankings, Certification shows prospective employees that they can expect a supportive and fair working environment.
Learn more about how to earn Great Place To Work Certification.
---