Over 300,000 millennial employees in the U.S. have weighed in to determine the 2021 Fortune Best Workplaces for Millennials™. By analyzing confidential employee surveys, Great Place To Work® has found what millennials want in the workplace right now. More than any other generation, they're seeking equity, transparency, flexibility and purpose. And they're not afraid to quit if an employer doesn't meet their needs.
The top 'benefits' millennials want in the workplace:
1. Fair pay and personal meaning
More than any other generation, millennials are experiencing a gap in pay and meaning. The percentage of millennials surveyed who feel they are paid fairly and that their work has purpose beyond just a job are 7 to 10 points lower than boomers and Gen Xers.
But the Best Workplaces recognize the unique dynamics affecting millennials, a generation grappling with the financial strain of starting families while still paying off student loans. At the Best Workplaces, 85% of millennials said they feel they are paid fairly for the work they do, versus at non-winners, where only 67% said they have fair pay.
If pay and purpose don't align, millennials aren't afraid to walk. In fact, according to the survey, millennials are nearly 4x more likely to intend to leave their job than Boomers, and 11x more than Gen X.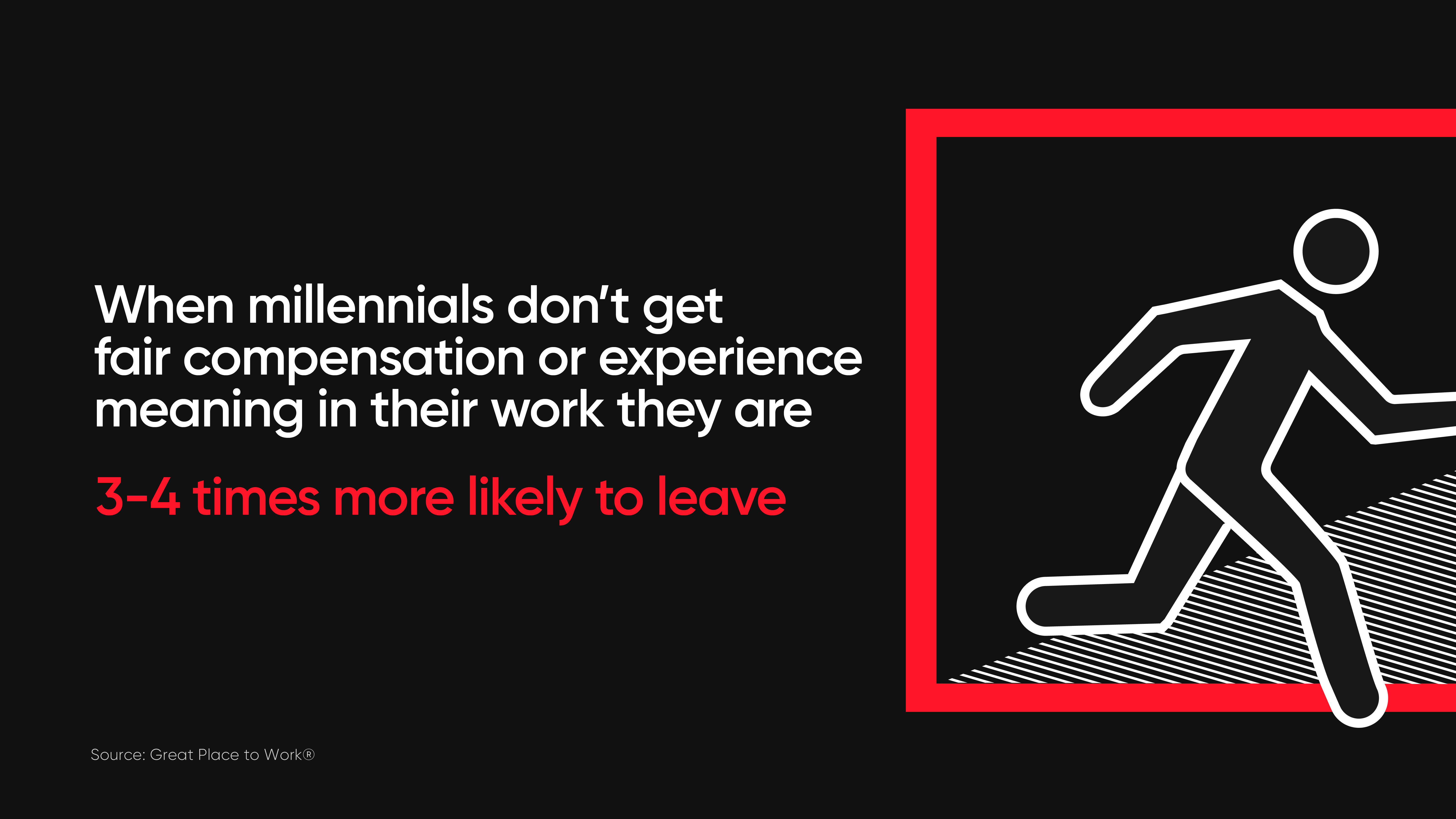 2. Inclusive benefits that go beyond parenthood
Millennials without children or eldercare responsibilities are at the greatest risk of turnover, with only 79% saying they plan to stay at their job for a long time, compared to 85% for millennials with caregiving duties.
Companies that made the list offer benefits that include employees who don't have child caregiving responsibilities. 'Pawternity' leave is on the list of benefits at many of this year's list winners.
These employers are cleverly acknowledging the growing role pets play in employees' lives by giving them time off specifically to care for their furry friends.
3. #MeToo: Gender equity at all levels
Among employee comments, the terms "gender equity" and "male counterpart" were mentioned by millennials more than by other generations and more than in any previous year's survey.
But Best Workplaces, such as real estate marketplace Zillow (number 24 on the list), are actively working to elevate women and bring transparent pay across their organizations. Zillow runs twice annual checks on pay, and for the past 12 months has maintained pay parity between genders doing the same work.
"We ensure we have equitable standards for work not based on the person," says Leah Sakas, vice president of central operations at Zillow. "It's the output, not who the person is."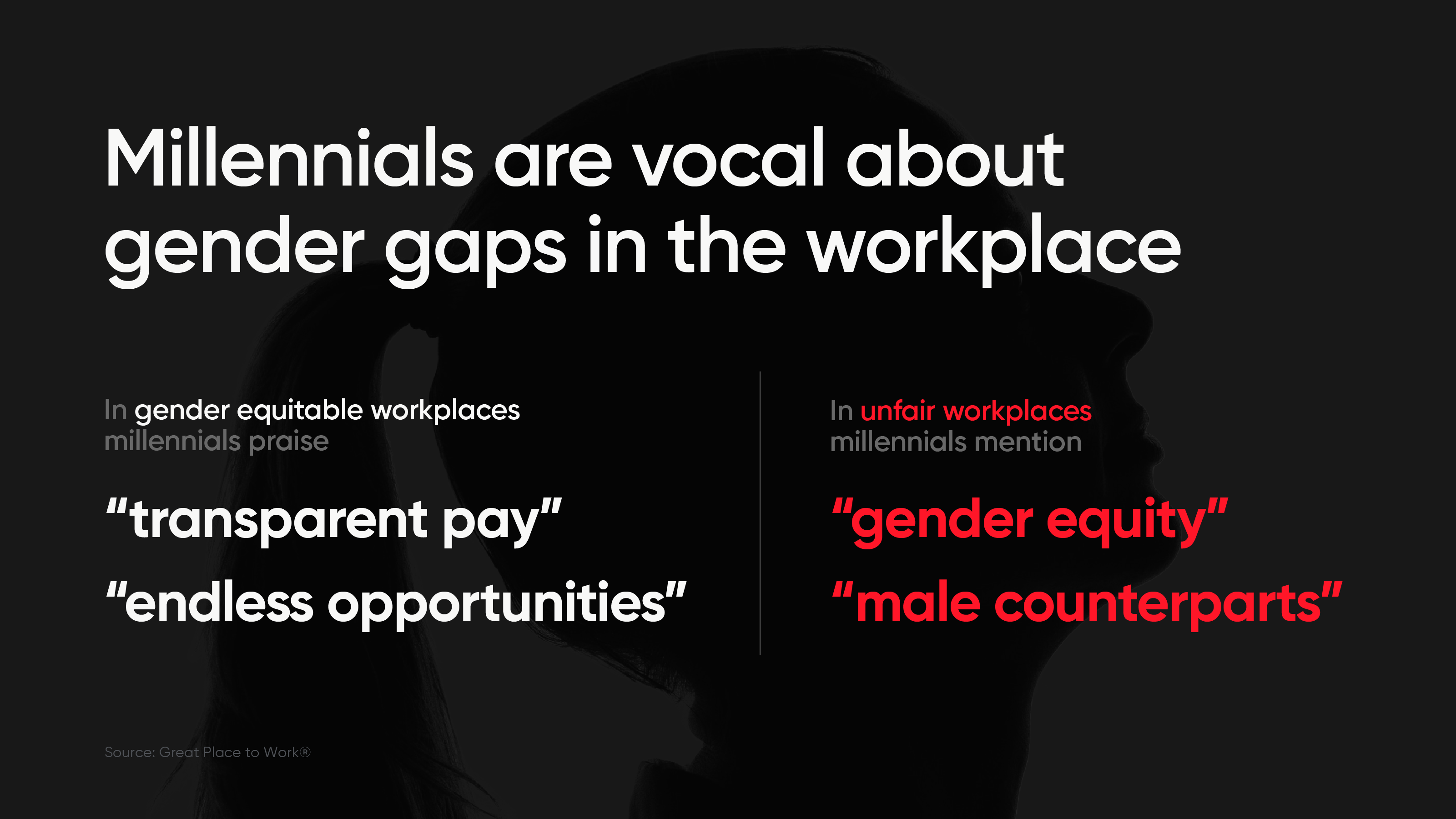 4. Flexibility post-pandemic
After more than a year of working from home, millennials aren't ready for a return to the in-office 9-to-5.
In their survey comments, millennials mentioned COVID more than any other generation and nearly 50% more than Gen X. Much of their comments were requests to continue flexible work arrangements, with the option to connect with colleagues through team outings when they can return safely.
Bankers Healthcare Group (position number 11) has hired people across 32 states as part of its hybrid model over the past year and a half. The company says the shift has enabled them to hire talent they previously wouldn't have been able to find or attract.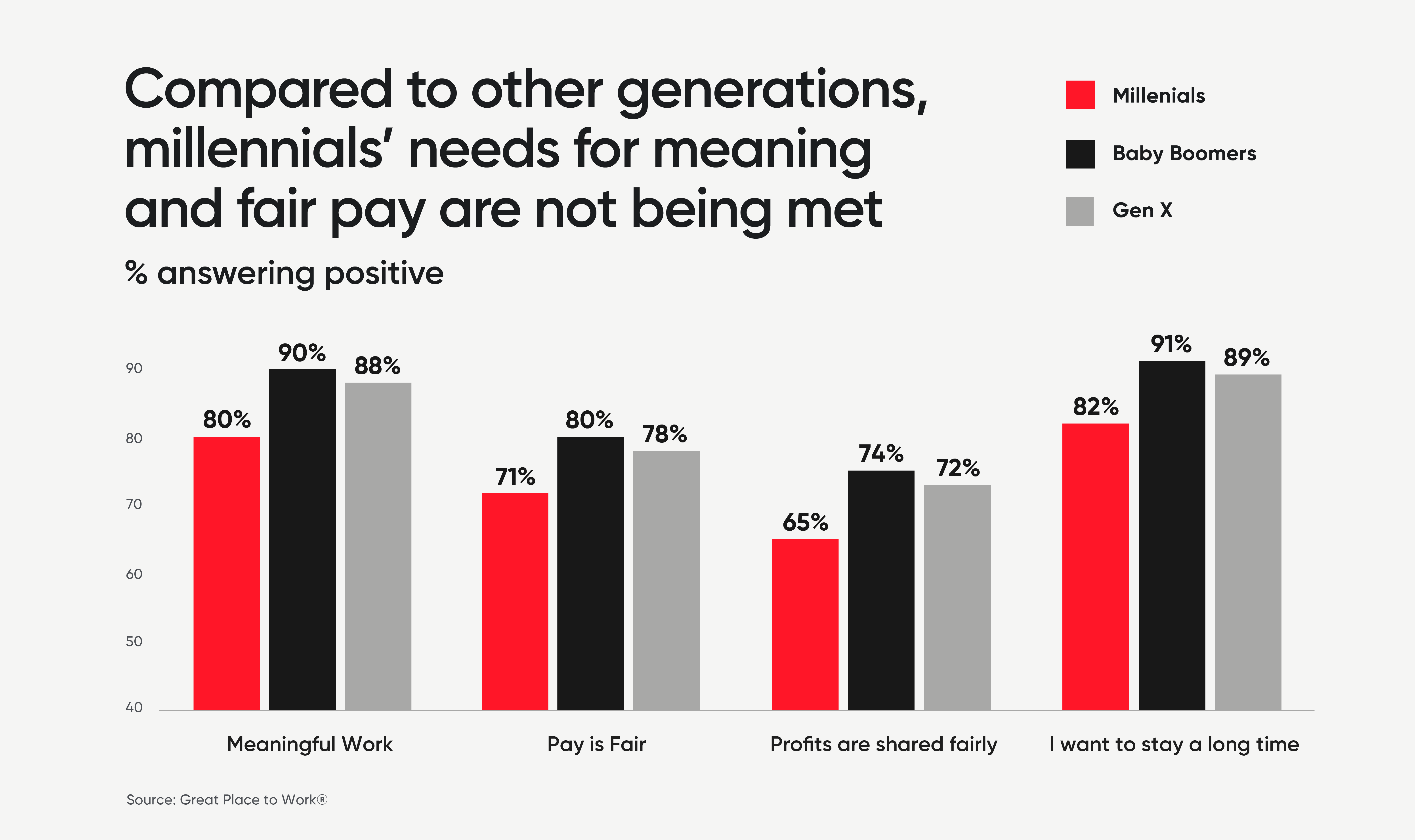 5. Safe spaces where they can be involved
Millennials value a welcoming atmosphere, where they can ask questions and be heard, and have a sense of shared ownership with the business.
"[There's] a frustration of micromanagement or being put in a box," says Tyler Crawford, chief operating officer at Bankers Health Care. "They want to create, they want to bring new ideas, push the envelope, honestly disagree. Make sure there's not an echo chamber of yeses."
Millennials also want workplaces that are willing to address issues of diversity, equity, inclusion and belonging (DEIB), particularly in the wake of George Floyd's murder and the subsequent Black Lives Matter protests.
The Best Workplaces are those that are willing to hold those safe spaces and put power in employees' hands. One company we work with boasts 11 different employee resource groups to address DEIB that are entirely grassroots and employee-driven.
Is your company worth quitting for?
See the full list of companies millennials want to work for in 2021 and apply to get your company recognized on any of our upcoming Best Workplaces lists.
---