Brilliant ideas for promoting your company culture award inspired by how Certified™ great workplaces celebrate their workplace recognition.
You've put in the work and now you have the kudos to show for it. Whether you've recently become Great Place To Work-Certified™ or have been named a Best Workplaces winner, there's no shame in a little self-promotion.
With Certification Nation Day coming up on May 17, 2022, now is the time to start planning how your workplace will celebrate and promote your company culture award. It's a great opportunity to not only praise your employees, but to also promote your employer brand to customers and job seekers.
Over the years, we've compiled a list of the different ways great workplaces have shared the news with their teams. Here are some of our favorites to inspire your own celebration and recruiting efforts.
1. Start from the top

Show employees (and prospective hires) that workplace culture is one of your company's highest priorities. Film a congratulatory message from your CEO or collect quotes from various levels of management.

Share these both internally and externally (like Mr. Cooper did on social media) to rally existing employees and attract job seekers.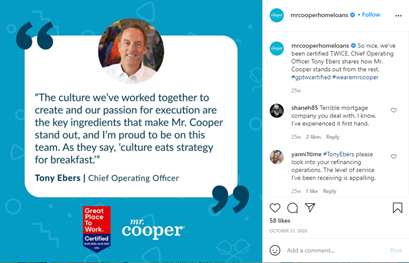 2. Surprise and delight

If your employees work on-site, celebrate them as they enter on the day of the announcement. Decorate the office, hang signs celebrating the win, and ask your top leaders to greet and thank employees at the door. You could even roll out a red carpet and create a step-and-repeat with a photographer for the occasion.
3. Get social with #GPTW and #GPTWCertified

Tell the world about your big win and what makes your company amazing. Use Great Place To Work artwork to create social media content and encourage employees to share the news.
4. Let your employees do the talking

When you're getting social with your celebrations, don't just keep it to the C-suite. Follow Asurion's lead and show off your company culture with personal anecdotes straight from your staff that reveal why they're proud to work there. Not only do employee stories make employees feel included, but hearing straight from employees will attract job seekers.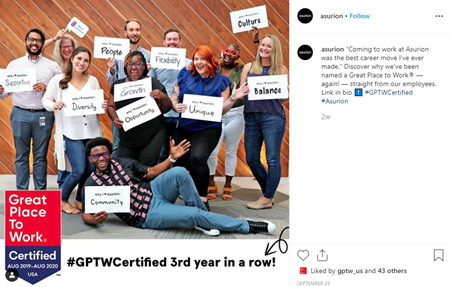 5. Go old-school social

When you're thinking social, don't stop at social media. Host a happy hour, throw a party, or provide free lunch for employees.
A few years ago, CHG Healthcare marked 10 years of recognition by bringing their people together for a thank-you from their CEO, along with games and prizes, including "spin the wheel of good fortune," rolling giant dice and Plinko.
6. Tap into technology

If you have employees working hybrid or fully remote, don't forget to include them in the celebrations. Use the technology you're already using to host a happy hour, cocktail-making class, or live concert over Zoom, like ALKU did during the height of COVID-19 lockdowns.
7. Provide giveaways

Everyone loves swag! Develop custom swag items so employees can boast about their workplace. Mugs, pins, stickers and notebooks are popular. You can also get creative – Cadence handed out foam fingers!

8. Create culture cookies

Commemorate earning your recognition as a great place to work with branded cookies. One company we work with sent out 14,000 cookies to ensure partners and customers knew they had earned such an accolade.
9. Give the gift of time

A great way to say thank you is to offer employees some extra time to pause, relax, and take in what they've accomplished. So, give your employees an extra day of PTO — they've earned it. Some companies close early on the day of the announcement and encourage employees to celebrate with family and colleagues.
10. Offer a financial reward

If your budget allows it, honor your employees' hard work with a pay raise or financial bonus. In our own research of workplaces across the country, Gen Z ranked better minimum wage and increased hourly pay as their number one factor in ranking an employer as a great place to work.
11. Reward the whole self (and their household)

A great workplace encourages employees to bring their whole selves to work. And with so many employees continuing to work from home, the crossover between home life and work life has never been so intertwined. Invite employees' families to be part of the celebrations or send them a card or small gift in the mail.
12. Celebrate in your job ads

Add GPTW branding and messaging to your job postings on social media and on your careers page to up your recruiting game.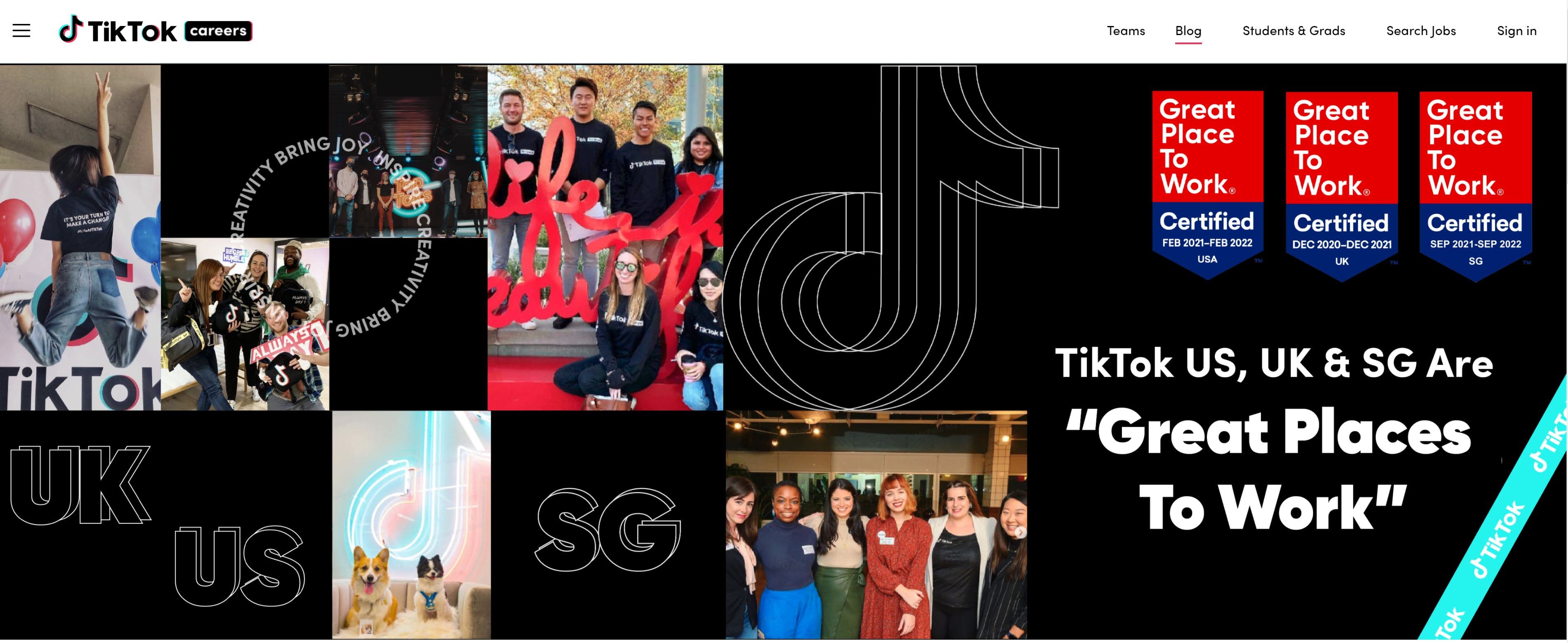 13. Launch an outdoor ad campaign

Earning Certification or a Best Workplace designation is a brag-worthy achievement. Ensure your office neighbors know they're in the presence of greatness with a billboard announcement or other signage near your major locations.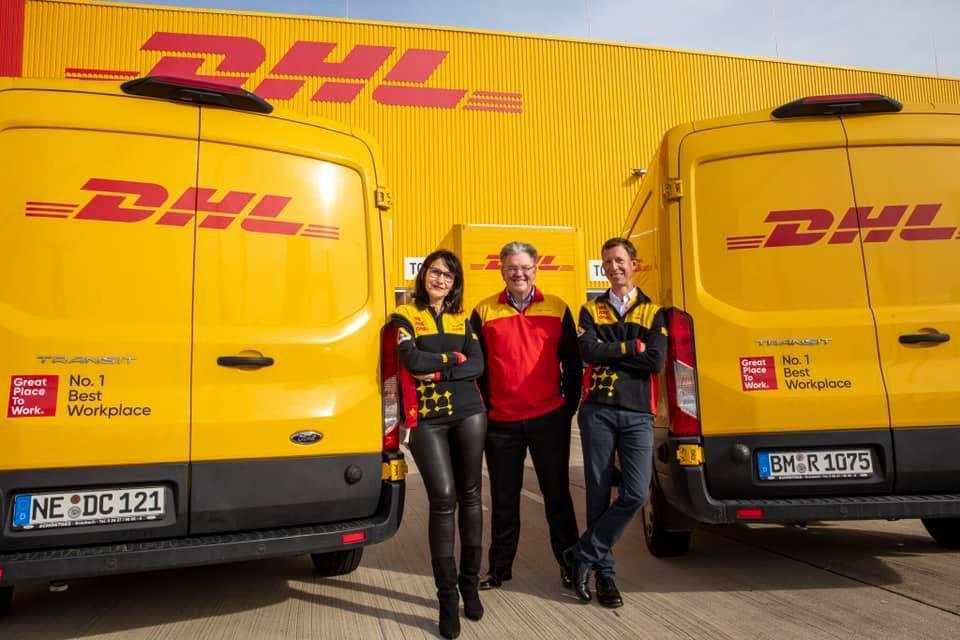 14. Email your customers

If you have a customer database that you send marketing emails to, send them the ultimate piece of employer branding: your company culture win.
More and more, customers want to buy from companies that demonstrate values that align with their own. Show your customers that you treat your employees as well as you treat them.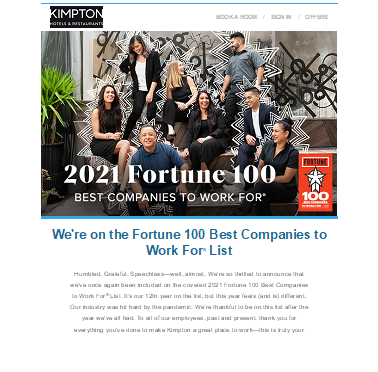 15. Update your company profiles

It may seem like a little thing, but it will make a big impact when job seekers come looking for you. Ensure that your company boilerplate and all your company profiles (Glassdoor, LinkedIn, Facebook, Instagram) mention that you are Certified or a Best Workplace. And while you're at it, update business cards and email signatures, too.

16. Start spreading the news

Get the word out by issuing a press release about your win, just like Mattel did, to be picked up by media outlets covering business trends in your industry.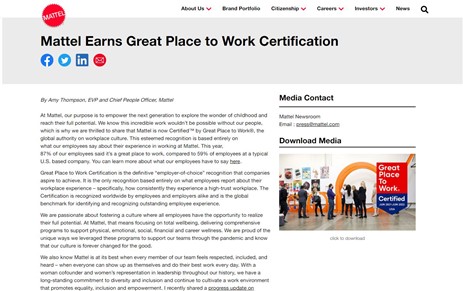 17. Show your stats

If like Great Place To Work Certification, your award is based on tangible data from your employee surveys, share those impressive numbers! Pick out some of the highlights and shout them loud and proud on your social media and within your other employer branding efforts.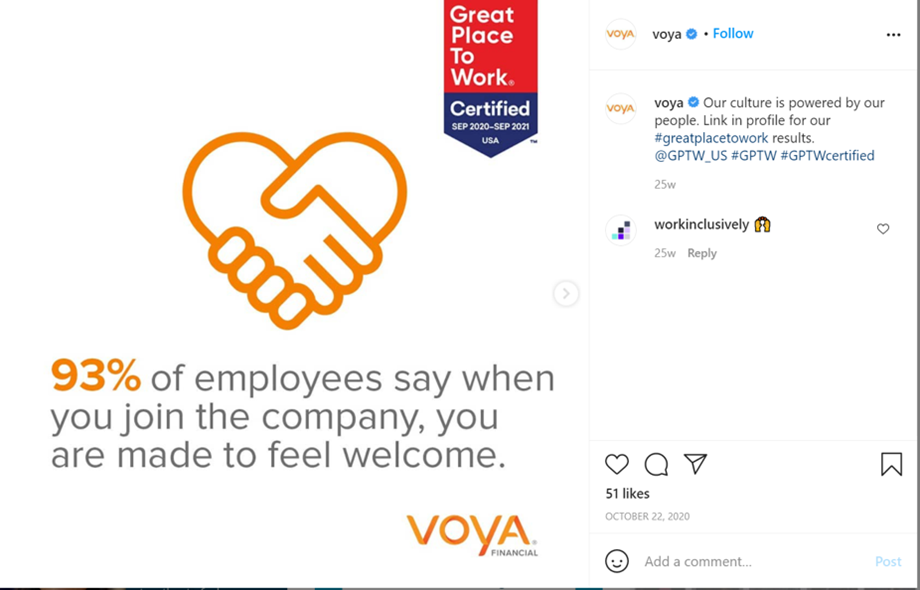 18. Share stories throughout the year

Invite a different employee to open all hands-meetings with a short speech about why the company is a great place to work for them personally. Hearing directly from employees will reiterate the message that your goal is to create and maintain a great workplace for all.
19. Send your culture leaders to Summit

Managers can make or break a company culture. Got amazing culture leaders in your organization? Thank them and keep them engaged by sending them to our For All™ Summit.
They'll learn from other passionate business leaders and bring back fresh ideas to take your workplace to the next level.
20. Know your why

Does your company have rich diversity? Are you a Best Workplace for Millennials™, or for women, or for parents? Is your commitment to giving back to the community what makes your employees proud to work there, just like at Raven Industries? Share the stories of why your workplace is one of the best.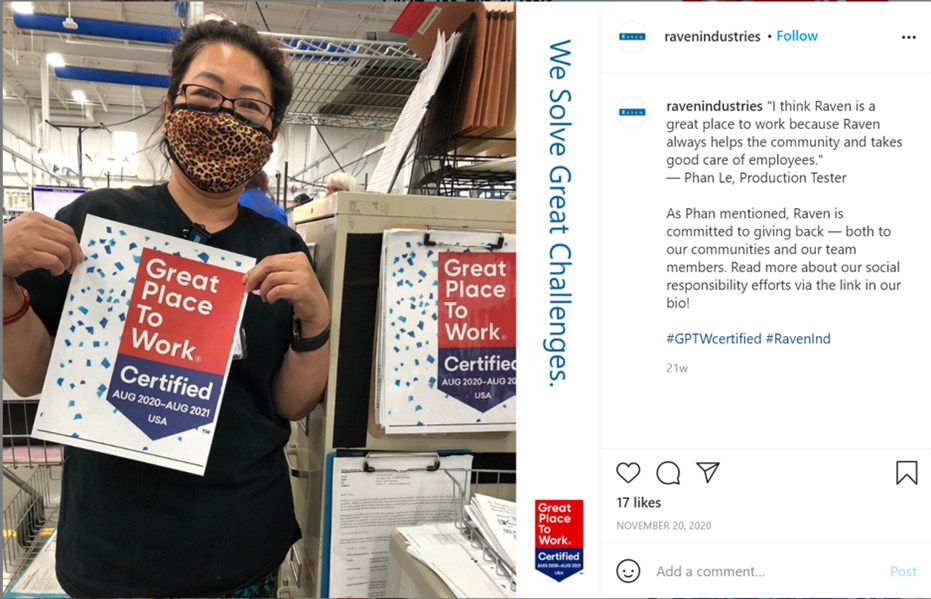 21. Rally for next year

While everyone is celebrating this year's win, let employees know that there is always room for improvement. Continue the success by following up with an action plan soon. Greatness never rests.
There are so many ways to celebrate the unique and amazing culture you've created, and these ideas are just the tip of the iceberg. We can't wait to see the creative ways you celebrate your company culture award!
Make your company culture go viral on Certification Nation Day

Is your company Great Place To Work-Certified? Get Certified and celebrate your company culture with us on Certification Nation Day on May 17, 2022.
---