"Companies with bad managers can't exist anymore." Great Place To Work experts share the key moves for managers to make in 2022.
Few people have more insights on the challenges of managers in this moment than Marcus Erb and Julian Lute.
Marcus is Great Place To Work®'s vice president of data science & innovation, a job that allows him to sift through our unmatched data set of +10 million employee surveys to discover the true needs of managers and front-line employees.
If Marcus is our master number cruncher, Julian hears the real-world stories that flesh out the picture. As senior strategic advisor for global strategic accounts, Julian works with leaders of our biggest clients to help them understand the employee experience and build For All™ cultures in this turbulent time.
What's more, both Marcus and Julian lead their own teams. They are not only studying the problems of managers today, they are living out the challenges and testing solutions themselves.
I spoke with Marcus and Julian about what managers should prioritize in this moment – as the workplace has become more dispersed, as business volatility continues and as employee burnout has risen to crisis proportions.
We also took account of the special pressures middle managers themselves face in early 2022.
Amid the need to deliver strong results and support their teams, managers have been struggling more than most employees. Thankfully, the guidance from Marcus and Julian promises to help not only organizations and employees, but managers as well.
Here are three things managers must do now, according to Marcus and Julian.
1. Cultivate purpose – through personal connection
A sense of purpose is critical for individual employees, for teams and for organizations. The Great Resignation is driven in part by people seeking more meaning in their lives in the wake of life-altering crises over the past two years.
"We did research on what predicts whether or not somebody says they're going to stay with a company a long time. We found three questions that predicted employee retention," Marcus says.
"One: Am I proud of where I work? Two: Do I find meaning in what I do? And three: Do I find the work fun?'"
"It comes down to purpose. If you understand whether people feel connected to it, then you get a powerful signal about whether they're planning to stay or go. And managers are the connection to that purpose now."
In the past, organizations largely fostered purpose through initiatives such as community giving, team-building offsites and annual meetings. These sorts of programs, though, are less viable in a climate where so many people continue to work remotely.
The key to purpose today, Marcus says, is the 1:1 relationship between managers and employees.
Can the manager illuminate how that individual's work ties into a bigger, inspiring company mission?
Can they build a personal bond of loyalty that is meaningful to that employee?
And can they replicate this across their team?
"Before the pandemic, companies would create a sense of purpose and connection and care through programs with a little bit of manager support," Marcus says. "Now you don't need programs. You need an army of managers to help scale that experience of purpose across your employees."
2. Care for employees – and for yourself
As Marcus suggested, related to cultivating purpose is caring for employees. Managers showing compassion for their people is crucial for retention and performance in this moment.
Studies from Great Place To Work and other researchers have proven that "psychological safety" and a caring community are critical to team performance.
And the strains of the pandemic, the racial reckoning and other challenges over the past two years have led to new levels of anxiety and other mental health challenges for employees.
The key to purpose today is the 1:1 relationship between managers and employees.
It's not as simple as managers saying, "It's OK not to be OK." Julian points out that several things make caring a complex job today:
Greater workplace flexibility
Newfound awareness around people's many identities.
"Now you're talking to this person on Zoom," Julian says. "And you've got to wonder if they're an introvert and how do I work with them as an introvert. That's something no middle manager has been trained or taught about."
"But you have to care. You must have empathy and care for folks and about who they are, and what's happening off-screen with them now, in a way you didn't before.
"You can't ignore it. Because if you ignore it, they leave, and then you as a manager have even more work to deal with," Julian says.
Can the manager illuminate how that individual's work ties into a bigger, inspiring company mission?
It can feel overwhelming to care for team members non-stop, and for managers to find the balance between supporting employees and driving for strong results.
That's why it is more important than ever for managers to care for themselves as well. This includes preserving time for self-care such as meditation, exercise and connecting with friends.
"Don't forget you're an employee and person too. You need to take care of yourself too," Marcus says. "It means there's a line to figure out. Where can you help given your constraints as a human? Because you're going through the same thing as everybody else."
3. Give time back – for real
One of the keys to reducing burnout is lightening people's loads.
Many organizations today are short-staffed amid rapid growth and a labor crunch. The result is a workforce stretched to the breaking point. People are juggling more and more work, even as they feel depleted and stressed.
Managers can play a key role here. They can help employees take lower-priority projects off their plates. But guidance toward "less is more" must be more than lip service.
It must be concrete assistance to free up space and trim employees' to-do lists. If managers aren't assertive about this, Julian says, employees will fall back to their tendency to keep piling on work.
"It's the American ethos," Julian says. "More and more and more. The person with the biggest workload wins."
One of Julian's solutions to make "less is more" truly less involves meetings. He has changed his meeting durations from their typical length of 60 minutes to 25 minutes. In this way, Julian ensures people can get breathers between Zoom calls and avoid meeting overload.
Marcus and his team, for their part, recently halved the number of their research projects. The dramatic move was facilitated by Great Place To Work CEO Michael C. Bush, who explicitly told the entire company to shrink the number of initiatives underway.
"That was a really pivotal moment for my team," Marcus says of the clear order to cut back. "As a manager, that's hard to do. If you're not getting that signal from your leaders, you feel stuck in the box.
But if you take the risk to say, 'Well, we're not going to do that, and we're just going to skip that meeting,' it can be really powerful for people."
The stakes are high
Powerful for people, yes. And imperative for managers. Marcus and Julian agree that the margin of error when it comes to managing people has narrowed in the past two years.
If employees don't have a leader who can cultivate purpose, demonstrate care and ease the load – all the while taking good care of themselves – they are more likely than ever to walk out the door.
"Companies with bad managers can't exist anymore," Marcus says.
"The Great Resignation started with concerns over commutes and flexibility and then pay. But things have evolved. People are saying, "If I can choose not to deal with traffic, if I can choose to get paid a livable wage, I can choose not to work for a jerk."
Get more leadership advice to your inbox

Subscribe to our content newsletter for the latest company culture blogs, tips and research.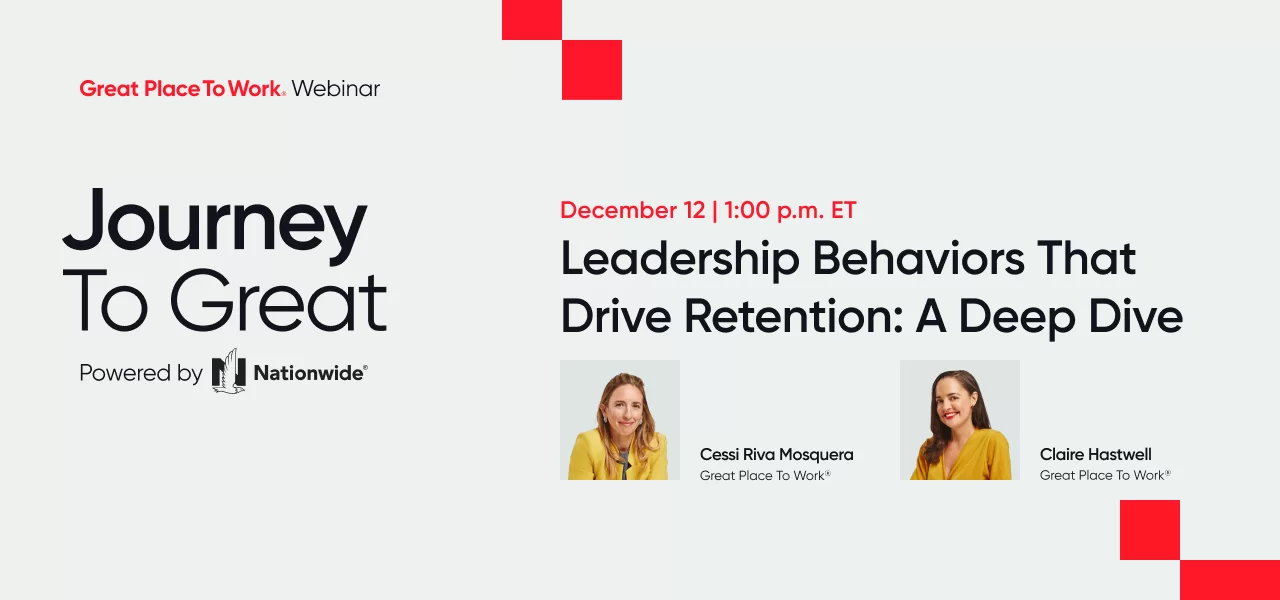 ---