Real-life examples of learning and development programs to promote growth in the Year of the Tiger.
February 1 marked the Chinese New Year, and with it, we rolled into the Year of the Tiger: A zodiac sign marked by strength, vitality and growth.
Astrologists say the year ahead will be filled with changes and risk-taking, adventure and enthusiasm. After two long years of pandemic life – which has felt far too much like "Groundhog Day"– that sounds like just what we all need right now.
This is most certainly true for employers navigating the new normal of workplace culture.
How do you help employees grow while they're working remote or hybrid?
How do you ensure equal opportunity for staff with differing personal goals?
And how do you keep employees on an upward career path within your organization, so they won't succumb to the Great Resignation?
If these sound like tall orders, it's because they are. But in the Year of the Tiger, the best workplaces are harnessing that energy and using it to help their employees thrive and make their company cultures even better.
How do you help employees grow while they're working remote or hybrid?
We are inspired by the growth programs of Certified™ great workplace. Here are 5 great examples of training and development programs for employees that you can look to for inspiration in your own workplace.
1. Cultural classes and language lessons: Abbott Laboratories
As teams become more and more international, learning to work with colleagues from different countries and cultures is more important than ever. At Abbott Laboratories, two learning programs aim to help employees feel more connected with the world.
Their Cultural Navigator™ is an online tool that provides guidance on business practices, management tools, social etiquette, cultural norms and customs for more than 100 countries.
Employees can generate a personal cultural profile, compare their typical business approach to standard practices in other cultures, and receive suggestions on how to interact with different cultures more effectively.
Abbott also offers a language program called Speak to the World, which provides employees the opportunity to learn a new language or improve their skills – whether it relates to their role or not.
The knowledge and skills employees gain in these two programs serves them well if they decide to pursue one of Abbott's international assignments.
The company encourages employees to apply for any role, even if it's in another country, and currently has over 150 employees on some type of short- or long-term international assignment.
2. Women's leadership initiatives: Infosys Limited, USA
Recognizing the shortage of women in upper management, Infosys Limited launched #IamtheFuture, a program aimed at grooming women for leadership roles.
Designed as a year-long program through 2022, in partnership with the Stanford Graduate School of Business, the program aims to prepare women leaders, strengthen the pipeline of women, and foster a more inclusive culture.
The womens' programming at Infosys includes Accelerating Her Achievements, Women in Executive Leadership and the Women in Technology Mentoring Program.
While there still remains work to be done, this focus on women in the workplace is already making a difference at the company. Women's representation in leadership roles at Infosys grew from 23% to 28% year over year.
3. Career coaching: Mutual of Omaha
At Mutual of Omaha, an on-site career coach provides 1-on-1 coaching services to employees, at no cost. The coach helps employees to define their career goals and to navigate their unique path to get there.
Coaching services include resume development, interview preparation and a personal career assessment, as well as networking opportunities and connection to other internal resources.
The best part? The idea for career coaching came from one of Mutual's own employees, a woman named Candi, showcasing the company's true commitment to personal development.
Candi was working in HR and loved helping people so much that she wanted to make it her full-time role, even though no such role existed at the company at the time.
The idea came from an employee, showcasing the company's true commitment to personal development.
After pitching her proposed position to the head of HR, she was given the green light and now meets with an average of 40 to 45 employees each month, one-on-one.
5. Scholarships and learning benefits: Panda Restaurant Group Inc.
Sometimes helping your employees grow means looking beyond your own business. Panda Restaurant Group does have its own personal development program called the University of Panda, which offers leadership training and career path support. But the company also offers financial aid to employees seeking higher education opportunities.
Under Panda's scholarship program, 300 employees are granted scholarships for tuition at any accredited two- or four-year undergraduate program.
Recipients receive up to 80% of their tuition, to a maximum of $2,500 per year, and the scholarship can be renewed for an additional three years. The program's aim is to help employees become high-performing and inspirational leaders.
Panda also offers a Learning Benefit, which provides annual financial assistance of up to $525 for approved courses, books and digital programming.
5. Development for diverse employees: Ralph Lauren Corp.
Mandatory DEI training is an integral part of the Ralph Lauren Learning Portal. Building on the unconscious bias and microaggression training the company started in 2018, they've since added allyship and advocacy to the curriculum. In 2021, 91% of Ralph Lauren employees used the platform.
However, recognizing that true allyship is about more than just diversity training and requires providing real growth opportunities, the company didn't stop there — which is where Ralph Lauren's Black Advisory Council comes in.
The council has laid out its own programming to ensure the right learning and development opportunities are available for Black, African and African-American (BAA) employees.
This includes initiatives such as providing leadership training for high-potential BAA employees, and hosting BAA guest speakers from external social and academic organizations to raise awareness of issues impacting BAA communities.
During monthly "office hours," various leaders, on a rotating basis, are available to provide career development guidance for BAA employees. These leaders can also serve as a sounding board for challenging situations at work.
Strength, vitality and growth
Training and development programs are not merely a nice-to-have in the workplace. Rather, they are critical for an engaged workforce, particularly one that has spent the past two years re-assessing their career priorities amid a global pandemic.
As an employer, you're best to embrace and encourage employees as they change and grow — and to grow yourself right along with them. Not just in the Year of the Tiger, but in every year that comes after.
Does your workplace offer robust training opportunities?
Get Certified™ with Great Place To Work and show the world your workplace cares about every employee experience.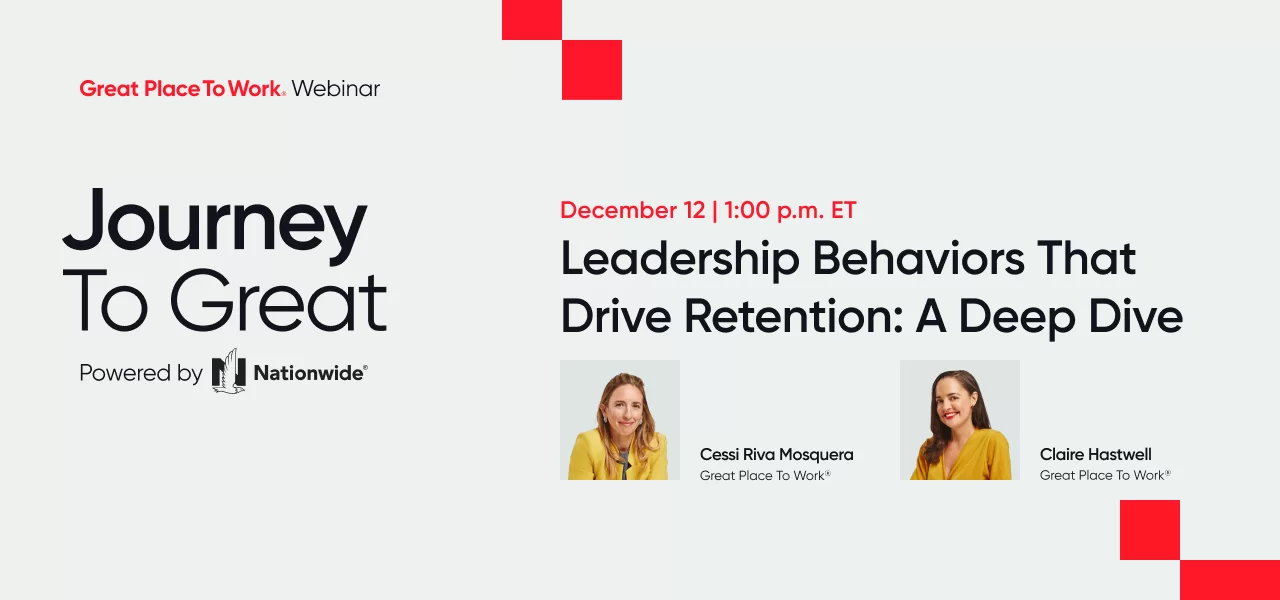 ---