"We're not just a restaurant company—we see ourselves as a people company. Where people come to grow and achieve their highest potential."
You might know them for their Orange Chicken, but for employees at Panda Restaurant Group, the company is known for its dedication to personal and career development.
The word "dedication" gets bandied about a lot, but it really does apply here. Here's what that commitment to growth looks like at this family-owned restaurant chain.
The company's culture is defined by what they call the "Panda Way." Four parts make up the Panda Way:
Healthy Lifestyle
Continuous Learning
Developing Others
Acknowledging Others
What's remarkable is that these cultural values are more than aspirational words on an HR document. The Panda Way rings true in employee survey feedback - it's their employees, and their honest opinions, that got Panda named to the 2020 Best Workplaces for Millennials™ list.
The secret sauce
When asked what makes the company a great place to work, employees frequently mentioned the words "growth," "grow" and "development."
"Compared to other companies I have worked with, Panda truly exemplifies what it means to care about people. I feel like my team always has my growth and development in mind and challenges me to be better. They offer so many resources to develop myself personally and professionally. I really feel like part of the Panda family and look forward to staying for many more years. It really is a great place to work."
- A millennial employee at Panda Restaurant Group
Employees also score the company high on statements about learning and recognition:
88% of millennial employees say they are given training or development opportunities

82% of millennial employees say that everyone gets a chance for special recognition
Compared to the average U.S. workforce, Panda employees score their workplace double in these areas. (The national average is between 39% and 47% depending on employee seniority.)
So what's the secret ingredient that makes Panda a great company for millennials? Why is employee retention so high?
Here are some of the ways the company puts personal and career growth to the top:
Managers are more than bosses – they are coaches
When we analyzed over 267,000 employee comments for the Best Workplaces for Millennials list, we found that distinct from other generations, millennials described leaders as "connectors."
Connectors go above and beyond typical managers by:
Connecting diverse workforces to a common purpose
Keeping their employees' long-term growth and personal interests in mind

Showing up during critical moments in their personal life or career
Panda's management ticks all these boxes:
"Mentorship at Panda is about advocating for one another and coaching for personal and professional growth."
"Our leaders take an active role in helping associates identify their goals at Panda as well as their personal life and how to achieve them. Whether it be to pursue higher education or buying a home. For example, one employee called her Regional Director of Operations before her family when she purchased her home because her leader was advising her through the complicated process!"
- Millennial employees at Panda
This style of leadership was often praised by millennial employees in Panda's survey when employees were asked what makes Panda a unique and great place to work:
"Great managers who sincerely care for your growth and development"
"My manager teaches and explains to associates the proper way to do the job and why we do it. So they don't just work for work - but are working for a purpose."
Servant leadership
Panda doesn't pigeonhole themselves as a restaurant company, instead saying, "At Panda, our vision is to become a world leader in people development."
With this vision, developing people and building effective teams are key competencies Panda looks at when promoting. While loving people management is not natural for everyone, Panda believes it can be cultivated.
"It starts with defining what your personal values and purpose are and helping managers understand the positive output of "servant leadership"—helping yourself while helping others.
"We then provide the tools and training to help managers lead better, so leading and managing people do not become a task they must complete but a growth opportunity that they willingly pursue."
Leaning into Employee Resource Groups (ERGs)
Employee Resource Groups (ERGs) can be credited for developing emerging talent that might otherwise go overlooked due to unconscious bias.
Panda's first ERG, their "Lean-In Circle" gives employees exposure to resources and mentors traditionally reserved for people at the top. The group was created to "encourage young talent and women to have open conversations about work, leadership, balance, and culture," explained a millennial employee at Panda.
Very soon after the group was formed, the Lean-In-Circle diversified to include anyone who would like to join with the purpose of creating an inclusive and welcoming culture at Panda for all. Now, Lean-In is over 30 percent male and includes associates of all dimensions of diversity.
By creating a safe space for discussion through ERGs where everyone feels like they can belong, Panda has helped create equal development opportunities for all.


Robust and diverse learning - for career and for self
What sets Panda apart here is their holistic approach to training. Panda does more than invest in training for work – they help employees develop themselves outside of work, too.
University of Panda (UoP)

In this award-winning training program, associates can earn certifications and continue their career growth. The Great Operations Curriculum is the largest and most comprehensive leadership training at UoP.



Culture of continuous learning is modeled from the top

Co-Founder and CEO Andrew Cherng, along with all top executives, committed to reading at least one book a month to continuously grow and develop themselves and others around them.

Employees are provided an annual learning fund which they can use to purchase leadership books or classes.





Scholarship opportunities

To encourage associates to continuously seek growth and learning, Panda offers scholarship opportunities.
Viewing employees as people – and not just cogs in a wheel– is what distinguishes high-trust workplaces from low-trust workplaces. By taking care of the whole person through training opportunities, Panda leaves a lasting impression on its employees.
"One thing that this company does is focus on the personal growth of its people. It is not only about professional growth, it's also about how we are growing as a person," said a millennial employee survey respondent.
Moments with the CEOs
Associates are given the opportunity to experience exclusive "Moments" with Panda Co-Founders and Co-CEOS, Andrew and Peggy Cherng, in a conversational environment.
This intimate setting and active engagement from their founders not only empowers associates with a stronger sense of belonging, but also provides a unique level of support for their personal and professional growth within the Panda family.
In the words of a millennial employee
"Food service is one of the most complex industries to work at. It takes a lot of patience for management and executives to find and train people that would stay in such a high-demand and-high stress environment.
Panda has shown compassion to its evolving workforce by adapting to the need of its associates come rain or shine. As an immigrant whose first job upon moving in the U.S. is Panda Express, I did not expect to stay with this company for so long.
They saw my potential as an employee and surrounded me with the right mentors and training, that made me stay with this company."
- Millennial employee at Panda
Like Panda, does your company:
Create a culture where all employees feel they belong?
Make learning and growth opportunities available to all?
Give every employee a chance for special recognition?
If you said yes, yes and yes, nominate your organization for a Best Workplaces™ award. We can't wait to celebrate your people-first culture with you.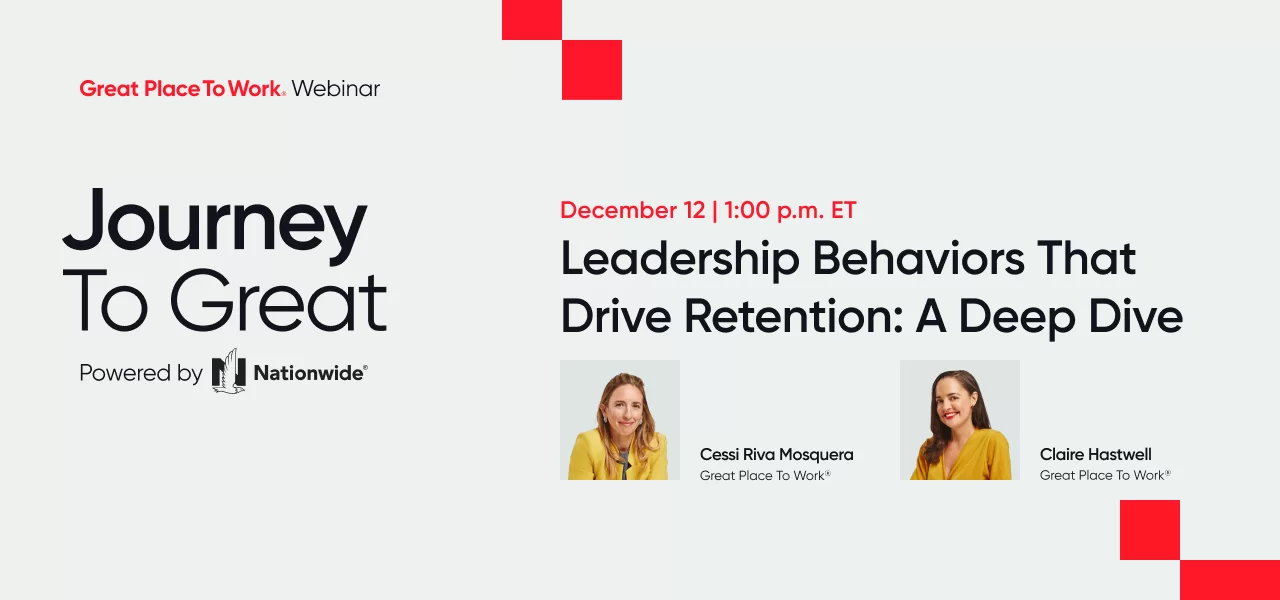 ---