If you have read our reports or attended our annual Great Place To Work Summit, you might know what our mission is (yeah?): To build a better world by helping organizations become great places to work For All™. It's so crucial to our cause that we trademarked the phrase! But what do we mean by "for all?" And why is it so important?
The 100 Best Companies to Work For in the US have improved for employees over the past two decades, on average. But our data shows they are, to a great degree, still wasting human potential. They typically have pockets of people who do not feel fully alive at work. These employees aren't contributing their best ideas or bringing their best selves to work.
Staff in your head office might be having a great experience, but what about the baristas serving your customers every day? Millennials may feel supported at work, but what about your older workers?
If we're going to call a company "great," it's got to be great for everybody. It's got to be a great place to work For All.
A great place to work For All has six components we measure:
Values
Innovation
Financial Growth
Leadership Effectiveness
Maximizing Human Potential
Trust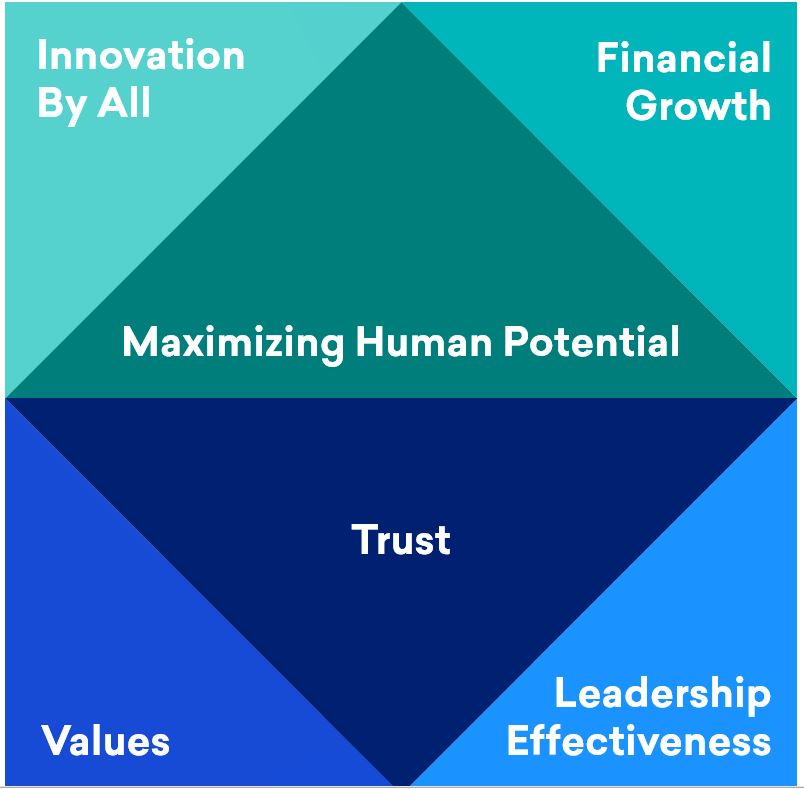 The first four items make sense to any leader running an organization. Item six, trust, is the bedrock of everything we do. That means that employees trust the people they work for. Levels of trust are assessed through employee perceptions of credibility, respect, and fairness.
Item five, "Maximizing Human Potential," resulted from a review of our employee survey data. We found significant discrepancies in the experience between executives and front line employees.
Gaps also showed between men and women, between generations and for people of different ethnic and racial identities. So we decided to raise the bar in our model to reflect the new For All standard.
We assess how well companies create a consistently positive experience for all employees, no matter who they are or what they do for the organization. We did this to reflect the world today and to recognize and learn from the inclusive organizations that are setting the pace.
For people and for business
Our research shows companies that rate most highly according to our For All standard grow revenue three times faster than their less-inclusive rivals.
In other words, while trust fuels business performance, For All accelerates it.
In a separate study, we found similar results. Organizations scoring highest using our For All methodology grew revenue about 10 percent faster than companies that ranked against our old methodology. Our old methodology only measured average levels of trust, pride, and camaraderie.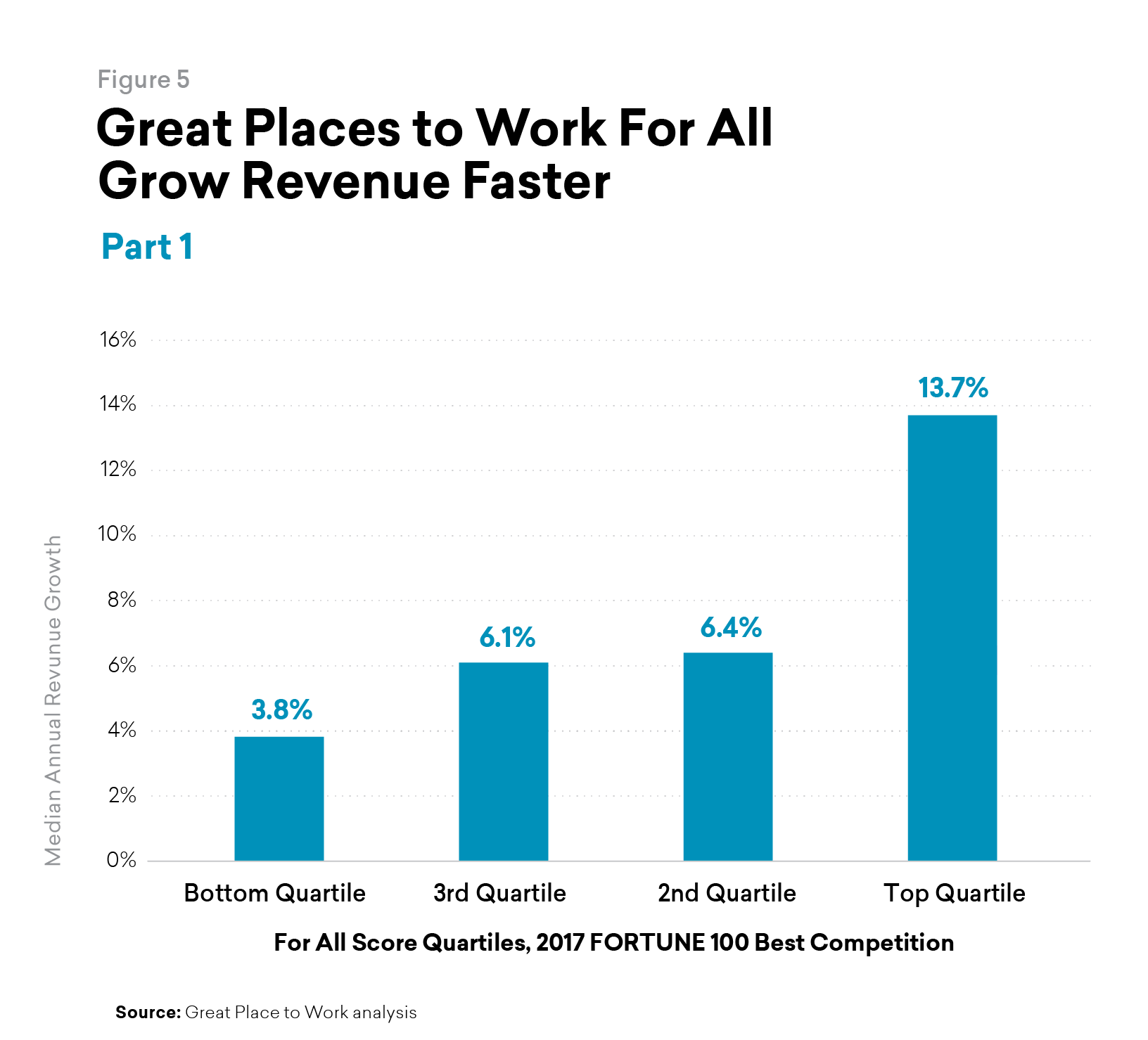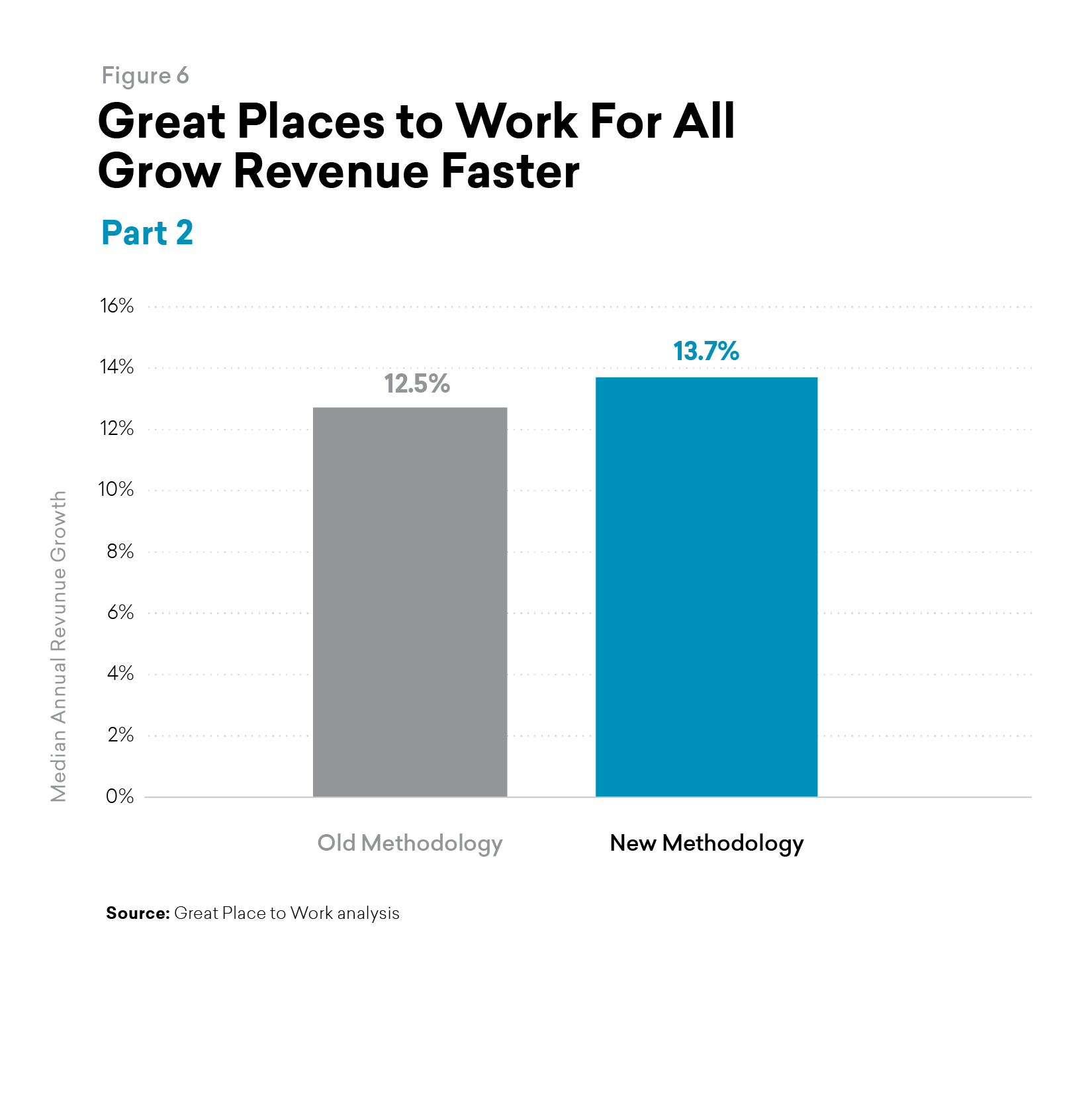 It's no mystery that For All organizations race ahead. Every employee counts in an economy that is about connectivity, innovation, and human qualities like passion, character, and collaboration.
The upshot is, in the emerging economy, the Best Workplaces can do better—much better. And they must. They must work with new behaviors to create an outstanding culture for everyone. To survive and thrive in the future, organizations have to build a For All workplace.
For more insights on how to create For All workplace, check out our book, A Great Place To Work For All
Photo: Great Place To Work-Certified company Five Guys.
---