If you've ever had a job where you loved the work but not your employer, or where you've been proud of the company's mission but felt distanced from your colleagues, then you know how important it is for all these factors to exist in tandem.
Finding this sweet spot is much like what the Japanese call "ikigai" (pronounced "eye-ka-guy"), which loosely translates to "reason for being." It's the point at which your passion and talents overlap with what the world needs and what it's willing to pay for.
Will they stay or will they go?
In our research on millennials in the workplace, we found our own version of ikigai, in which passion, pride and personal connection must overlap. Together, they form the three keys that indicate whether an employee is likely to stay with a company or to recommend their workplace to others.
While this applies to employees of all generations, in our research, Gen Xers and baby boomers were more likely to positively weigh statements like "I'm proud to work here" and "I enjoy the work" than their millennial counterparts.
In other words, millennials are more discerning when it comes to ranking passion and purpose in the workplace – and therefore more likely to leave if a job feels out of alignment.
For our 2021 Fortune Best Workplaces for Millennials™ list, we surveyed over 330,000 millennial employees at U.S. companies across industries, assessing their experiences of trust, innovation, company values and leadership.
Our results found that millennials are nearly four times more likely to intend to leave a job than boomers, and 11 times more likely than Gen Xers. But when workplaces hit the ikigai bullseye, the risk of millennial turnover drops.
3 keys to millennials employee retention in your workplace
1. Reputation/Pride: "I'm proud to work here"
Perks like ping pong tables and breast milk shipping have been flaunted as ways to attract a millennial workforce. But the Best Workplaces recognize it's about so much more than that. Employees need to have pride in their work and in the company overall.
"Perks are awesome, but I don't necessarily think that perks are what keep our employees engaged," says Alex D'Amico, senior director of talent strategy at Better.com, a digital homeownership company specializing in mortgage, real estate and insurance.
"Do they believe in the work they're doing? Do they feel engaged in their teams? Do they believe the company is listening and changing based on their feedback?"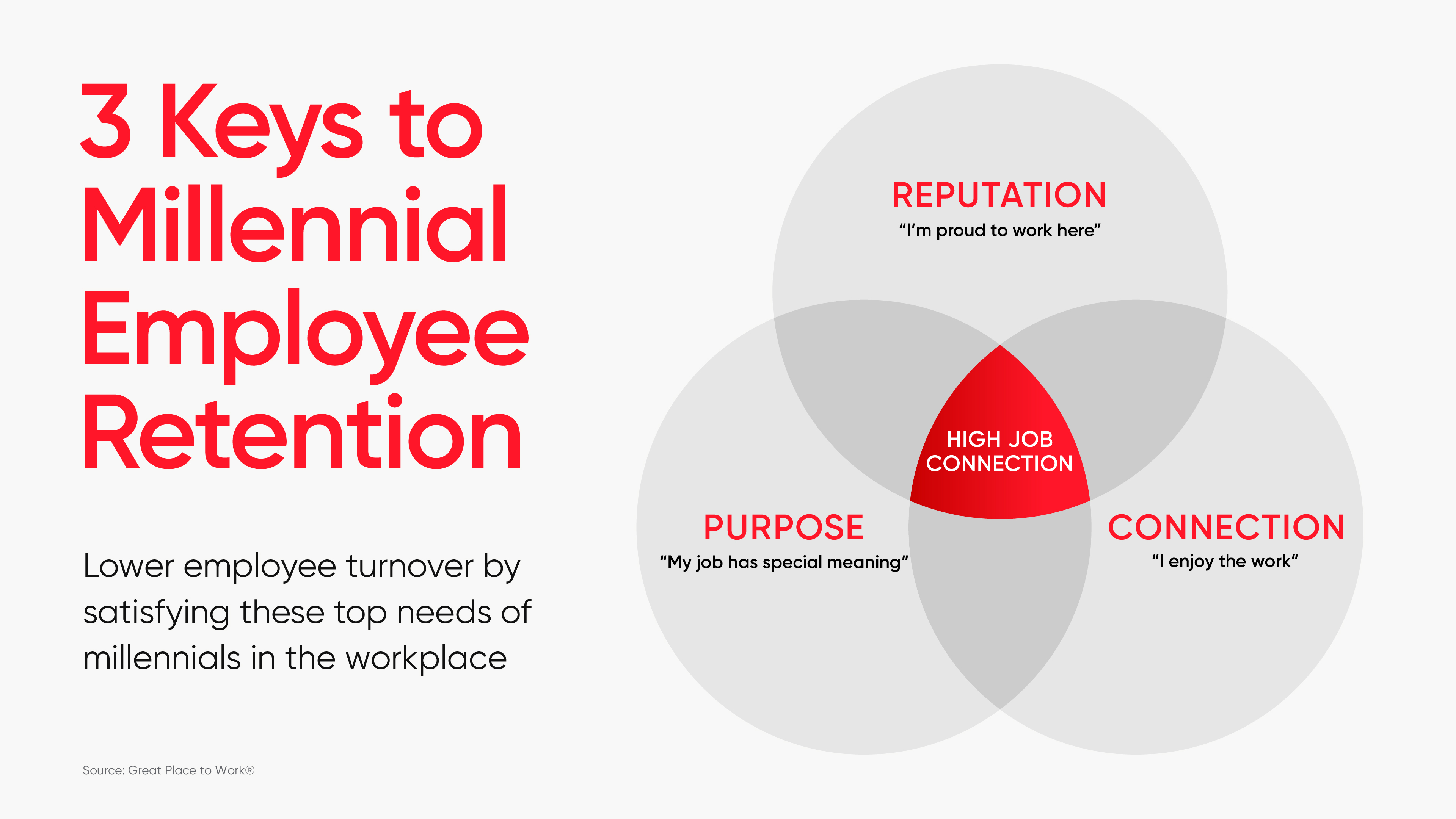 2. Purpose: "My job has special meaning"
At the Best Workplaces, 80% of millennial employees say their work has special meaning and is more than "just a job."
For example, Zillow, an online real estate marketplace, views its mission as empowering people to take the next step in home ownership – something all employees can feel a part of. The company landed at #24 on the Best Workplaces for Millennials list.
"Putting the customer front and center at everything we do keeps us grounded and humanizes our work," says Leah Sakas, vice-president of central operations. "[It] helps us make sure we're focusing on the things that matter to real-life people. … It's a pretty rare opportunity to shape one of the most significant moments of people's lives."
3. Connection: "I enjoy the work"
How connected are your colleagues? At the Best Workplaces, 92% of millennial employees say people look forward to coming to work.
For employees to enjoy the day-to-day, they need a workplace that allows them to bring their whole selves to work, collaborate with colleagues, and have a bit of fun while doing it.
For Bankers Healthcare Group, it's all about creating a family dynamic that encourages collaboration within teams, says Tyler Crawford, chief operating officer.
"It's really giving people freedom and surrounding ourselves with peers who not only hold us accountable, but push for creative thinking, push for innovation, push for new ideas."
The sweet spot: peak job satisfaction
It takes effort to create a workplace that attracts and retains talent – millennial or otherwise. The Best Workplaces achieve this by conducting regular employee engagement surveys, defining their company's north star, and encouraging connection while still valuing individuality.
But the payoff to satisfying these three keys is increased employee engagement and lower turnover. And as any employer who's struggled with recruitment knows, that's a sweet spot, indeed.
Want to know how your company stacks up for millennial employees?

Contact us to conduct your own employee survey and apply to get on our next Best Workplaces list.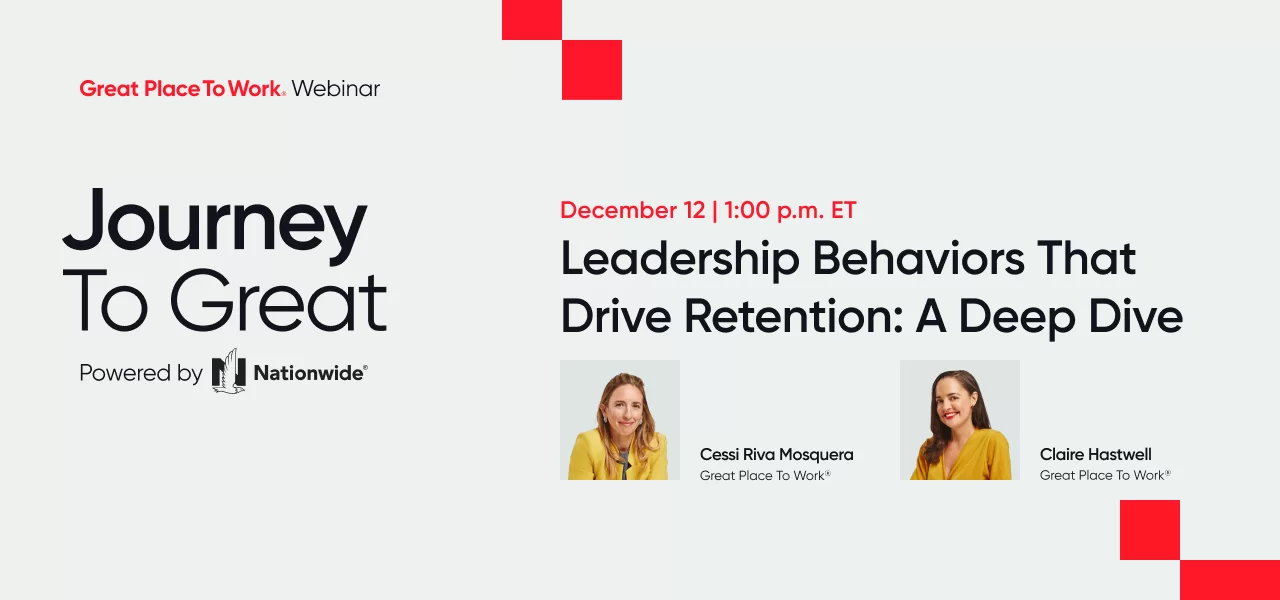 ---