How Great Place To Work Certified™ companies outpace the average U.S. workplace
95% of job candidates say reputation is a major factor when considering a job offer. This should be music to the ears of Great Place To Work-Certified™ companies.
According to our research, Certified™ companies can boast about having better bosses, fairer paths to promotions and employees reporting that they look forward to coming to work.
Companies that meet the Certified standard are far more successful at retaining, recruiting and engaging employees than at the average workplace:
93% more employees say they look forward to work

51% more employees say they intend to stay for a long time

60% more employees say they would strongly recommend their company to friends and family

66% more employees say they can quickly adapt to changes in the business.
Certification has become a national benchmark of positive company culture. At least 65% (7 out of 10) of a company's employees must say it's a great workplace. With the national average sitting at just 49%, Certification is a milestone well worth celebrating.
Great Place To Work® conducted a national employee survey in 2019. Over 2000 employees across a range of industries, including finance, health care, manufacturing, professional services, retail, technology and hospitality, who do not regularly participate in our survey, told us about their employee experience.
Employees across four managerial levels and a variety of demographic groups were asked to rate their workplaces across 60 statements measuring trust, pride, collaboration, management effectiveness, innovation, diversity and fairness, as well as other elements of company culture.
We then compared the national averages to employee evaluations of Great Place To Work-Certified companies. The gaps are striking.

At the average U.S. workplace, just 49% of employees are having a positive experience.
Whether employees worked in health care (49%), hospitality (48%), or the hyped industry of technology (51%), the overall picture isn't great. The highest average results came from employees working in the finance industry, at a "whopping" 56%.
| | | | | | | | | | |
| --- | --- | --- | --- | --- | --- | --- | --- | --- | --- |
| Statement | Finance | Manufacturing | Professional Services | Retail | Technology | Health care | Hospitality (e.g., Hotel, Restaurants) | Other | Average |
| Taking everything into account, I would say this is a great place to work. | 64% | 49% | 58% | 57% | 64% | 58% | 61% | 61% | |
| AVERAGE across all survey statements | 56% | 42% | 52% | 47% | 51% | 49% | 48% | 49% | 49% |
The benchmark of a great company culture
It's rough out there. Less than half of U.S. workers feel profit distributions are fair, and more than half report regular favoritism, politicking and unfair promotion practices in their workplaces.
But Great Place To Work-Certified companies soar past their competitors on every one of these metrics.
Companies that build workplaces based on trust fundamentally change these dynamics and create workplaces that employees actually look forward to going to – and businesses that thrive as a result.


Great workplaces are full of great managers and supportive, passionate coworkers
If you're job seeker, there are a lot of reasons why it's better working at a Certified great workplace:
4.5x times more likely to work for a great boss (and 75% less likely to have an awful one)

88% more employees say there's no politicking and backstabbing in their workplaces

93% more likely to look forward to coming to work

Great workplaces pay and promote their people fairly
Employees at great workplaces say they often or always felt practices at their workplaces were fair. At Certified great workplaces, employees are:
2x more likely to be paid fairly

2x more likely to earn a fair share of the company's profits

2x more likely to have a fair shot at promotion


Working is better at Certified companies
Average U.S. Workplace

Certified™ Workplaces

How much better is
work at Certified
companies?

% Employees who look forward to coming to work

42%

82%

+93%

% Employees who feel company profits are shared fairly

30%

68%

+125%

% Employees who believe managers avoid favoritism

37%

74%

+102%

% Employees who believe promotions are fair

41%

76%

+88%

% Employees who believe people avoid politicking
and backstabbing to get things done

43%

80%

+88%

% Employees who believe people are paid fairly

41%

75%

+82%
Happy employees are good for firms and investors
Treating employees with care and respect pays off. Certified companies do better on several key business indicators:
Agility – 66% more employees adapt quickly to changes necessary to the business' success

Teamwork – employees are 58% more likely to cooperate at a high-level

Effort – 67% more people work on teams that are willing to give extra to their work

Employee and customer satisfaction are linked
Consumers want to buy from purpose-driven companies that care about employees. And Certification is an indicator that a workplace treats its employees well.
Similarly, Certified great workplace employees rate their customer service higher than employees at the average U.S. workplace:
Service – employees are 34% more likely to believe their company provides excellent customer service

Employer brands that outshine the competition
Certified great workplaces retain and attract more talent. They live their employer brands from the inside out:
Employee referrals – 86% of employees say they would recommend their company to others, compared to just 56% at the average U.S. workplace

Recruiting talent – in other words; employees are 60% more likely to help their employers recruit top talent by strongly endorsing their organizations to friends and family

Retention – employees are 51% more likely to stay for a long time

The proof is in the pudding
Employee surveys don't lie: Certified workplaces are head and shoulders above the average U.S. workplace, so it's worth doing what it takes to become Certified.
Not Certified yet?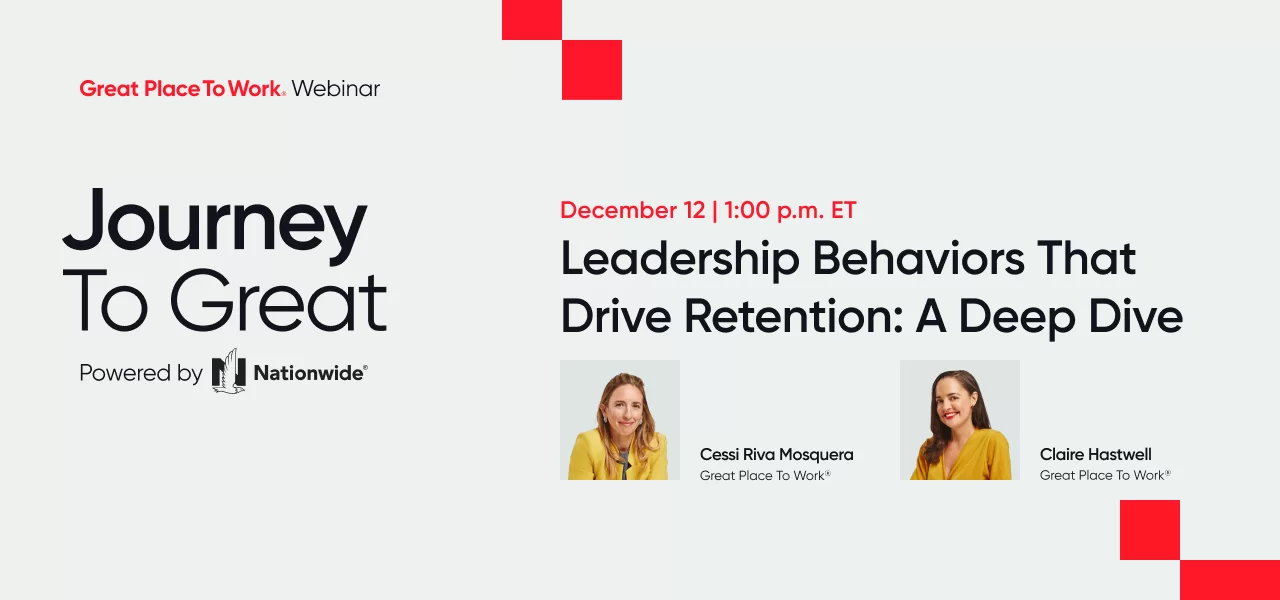 ---