Employers who prioritize a culture of innovation see more diversity and inclusion, increased revenue, and higher employee engagement.
What does it take to be innovative today? A massive budget? A high-tech team in Silicon Valley? A dedicated R&D department?
How about inclusion?
Workplace diversity and inclusion are not something many organizations think about when they're looking to grow and adapt to changing market conditions. But a company's culture of innovation is closely intertwined with its culture of inclusivity.
And that connection can have big results: companies that get innovation right by inviting every employee into the process outperform their competitors and see five and a half times the revenue growth.
What does a culture of innovation look like?
A culture of innovation is one that encourages questions, conversations, and new ideas — from everyone. An innovative culture is essential for any business to survive. However, successful innovation doesn't necessarily come from how much money you put into R&D or from adopting the latest tech. Rather, it comes from emotionally connecting all employees to the company's mission strategy.
"Innovation comes ultimately from a diversity of perspectives," says Frans Johansson, CEO of The Medici Group. "When you combine ideas from different industries or different cultures, that's when you have the best sense of developing ground-breaking ideas."
Johansson is describing what we have known at Great Place To Work® for 30 years — inclusive workplace practices are core to creating a culture of innovation. This proven philosophy is what we call Innovation By All — when leaders cultivate the intelligence, skills, and passion of everyone in the organization. Everybody creates, everybody is connected, and everybody contributes.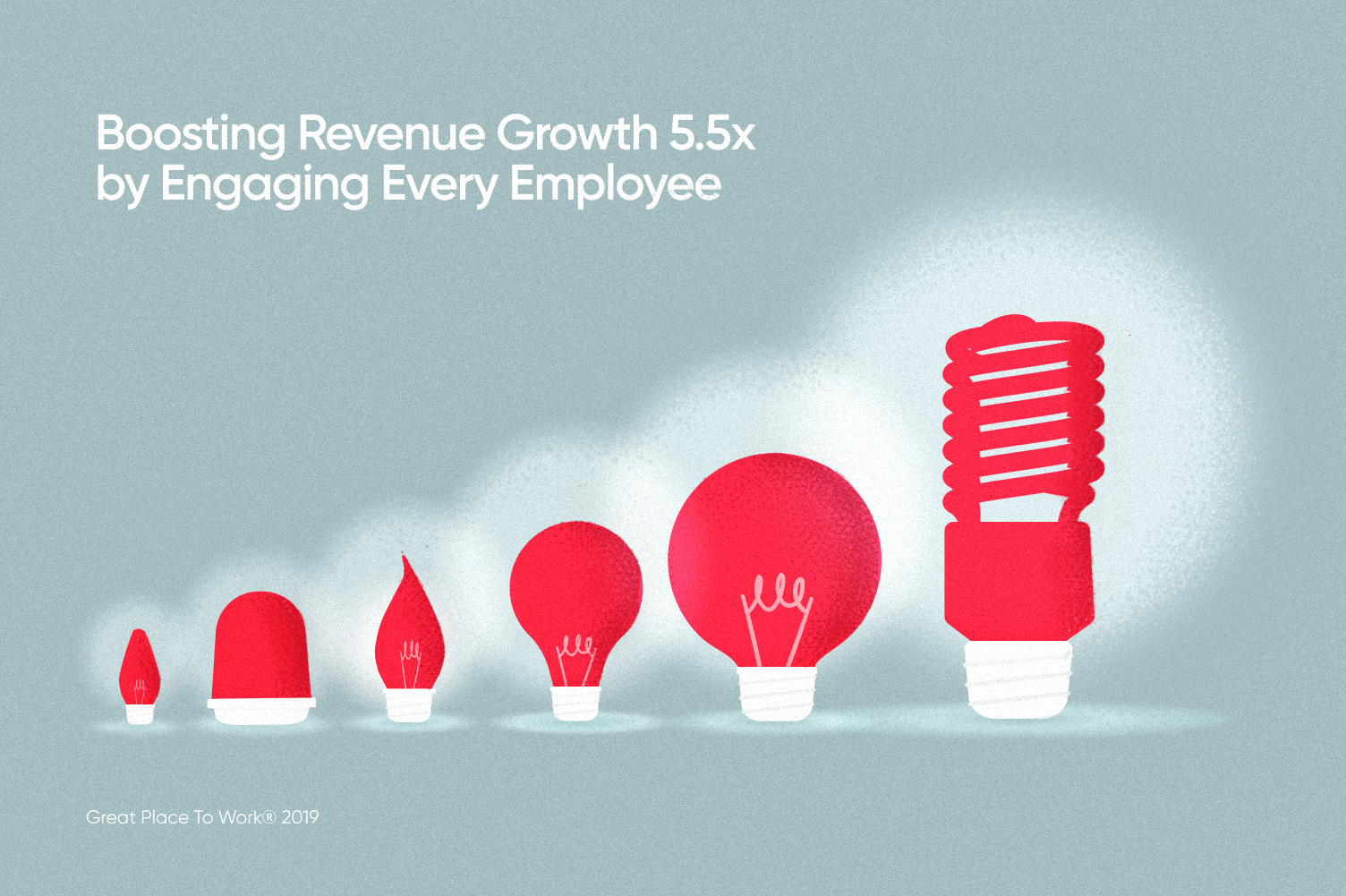 How to create an innovative culture in the workplace
In our ongoing annual research on the Fortune 100 Best Companies to Work For®100 Best Companies to Work For®, we found six practices that cultivate this inclusive, innovative workplace environment.
1. Give all types of space
Creating an environment that values all voices is the hallmark of leading companies. They make room for their employees' complete identities — mental, emotional, and otherwise — fostering a psychologically safe workplace where creativity and risk-taking can thrive. This culture of inclusivity and empowerment allows fresh ideas to emerge, which drives the organization forward.
This open culture resonates profoundly with employees. For instance, an LGBTQ+-identifying staff member at 9th Wonder offered this perspective on their unique work environment:
"In our workplace, ideas are valued no matter where they come from. Executives are accessible and open. There is dialogue whenever it's needed. There isn't any fear culture. If anything, you may be completely slammed, but you want to say yes to projects because you don't want to miss out on something great, not because you feel pressure."
Giving space also means acknowledging employees' lives outside of the workplace. If employees are worried about things happening outside of work, then they won't be able to function at their best.
At 1-800 Contacts, this space includes financial wellness. The company recognizes that financial troubles can be a huge source of stress for employees. And financially stressed workers miss more work. 1-800 Contacts mitigates this stress by offering mortgage training, get-out-of-debt training, and essential financial advice — creating more mental space for employees.
2. Create energy by thanking all
Recognizing employees for their efforts, not just their outcomes, doesn't dilute the idea. Instead, it acts as a fertilizer. It energizes individuals and the entire organization. And encourages people to keep contributing. The enthusiasm around trying to make things better is infectious and fun. And that is itself a catalyst for creativity.
Energy reverbs from the words of this survey comment from an employee at OC Tanner:
"This is a recognition and appreciation company. That's our business, but we're really good at it internally as well. The whole company sees it done all the time; it is not contrived or fake, it is real and sincere. This makes all of us want to step up our game and recognize great work when and wherever we see it. This makes people kinder and more controlled as we work together shoulder to shoulder. We try to treat people as people and not as objects to walk over. Everyone is more cooperative and respectful in this company. Everyone can feel valued."
3. Cultivate diverse interactions
Top-tier organizations stand out by fostering an environment that encourages unlikely alliances, creating spaces for collaborations between individuals who might not otherwise interact.
When asked to pinpoint what makes their workplace special, an employee at Agilent Technologies highlighted the inclusivity and adaptability of their team:
"There is a strong sense of everyone's voice matters within projects despite titles/roles. The team has been quite open to being influenced by new and emerging trends and listening to innovative thinking."
These diverse connections not only enrich the everyday work environment but also play a critical role during challenging times. Illustrating this, consider how Farmers Insurance CEO Jeff Dailey responded to a major crisis. He formed a cross-functional team comprised of leaders from human resources, government affairs, internal and external communications, legal, and real estate teams to strategically manage the situation.
This example underscores the power of diversity in decision-making and problem-solving, reinforcing the fact that a broad spectrum of perspectives can lead to more comprehensive and effective strategies, even in the face of adversity.
Innovative companies also prioritize diversity and inclusion at the individual level. They recognize that when employees come to the table with diverse experiences, it can spur innovation and even boost revenue.
4. Invest in everyone's growth
Lavishing resources only on employees who show "high potential" is misguided. It ignores the potential of others and can have unintended consequences. It often leads to feelings of frustration and favoritism.
The best leaders see the value of maximizing all human potential and training and developing every employee — including developing them outside of work.
Few companies exemplify this so well as Bitwise Industries does. When asked about its secret to employee retention, co-founder and CEO Jake Soberal said one reason is that the company "is not tight-fisted."
As most employees found their agency increased during the pandemic and the transition to remote work, Bitwise was already encouraging flexibility and non-linear paths for growth and work.
"We encourage that agency and ask employees, 'do you have a thing you want to do on the side? We really want to support that and see that succeed. Do you have a new interest that you want to explore internally? We'd like to open up channels and opportunities for you to do that.'"
This open-handed approach to training and career progression is what Jake says makes Bitwise a place where folks can see themselves navigating between roles in the company. And who do you think benefits from all that outside inspiration? The company culture.
5. Democratize the idea generation process
Leading organizations know to leave no stone unturned. It's not enough to put out a suggestion box. They make it simple for their people to generate ideas — and lots of them.
These companies go further by providing guidance for fleshing out a new concept. They adopt systems that allow peers to comment on and get behind promising proposals.
Texas Health Resources taps into the wisdom of employees regardless of their role. This egalitarian approach is possible with a dedicated communication tool. Used throughout the design process, the tool is called "Question & Resolve." Employees can ask colleagues about designs until they reach mutual understanding.
6. Inspire all with purpose
Our research shows that a purposeful work and innovation are linked.
In many organizations, there is a downward trend in inspiration and sense of purpose at work between the higher echelons of management and the lower ones. However, in companies that have cultivated a strong purpose-driven culture, leaders succeed in inspiring individuals across all tiers — from the C-suite executives to warehouse employees.
Consider the example of Playa Resorts & Hotels, where purpose is not just espoused by leadership, but is actively demonstrated, trickling down to those on the front lines through community engagement activities.
Dayna Blank, senior vice president of human resources at Playa, recounts, "Our CEO doesn't just talk about environmental responsibility; he practices it by cleaning the beach — donning gloves and picking up trash alongside all of us."
Whenever Playa employees come together in different countries, they plan a community service where everyone participates, no matter who they are or what they do for the company, ensuring that meaningful work is felt at all levels.
Innovation is not accidental, it's strategic
By embracing diversity, enabling collaboration, and acknowledging the potential of every team member, you can help spark novel ideas. And by fostering a sense of psychological safety, you can encourage employees to take bold risks.
Simplifying access to idea generation and ensuring your team feels tethered to a purpose larger than themselves will unlock your team's full creative potential. These are the foundations of a vibrant culture of innovation, and it's within your grasp.
Is your organization set up for a culture of innovation?
Learn how to earn Great Place To Work Certification™. Show the world how your culture of inclusivity kindles creativity and innovation across the board by measuring and improving these vital attributes.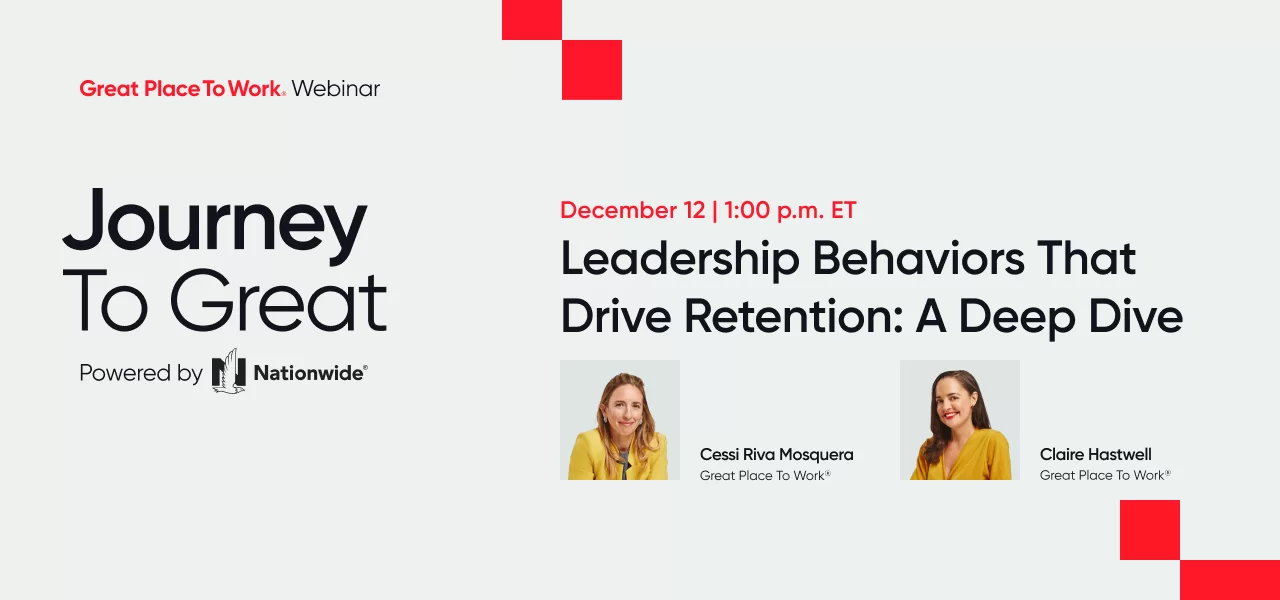 ---