With recession fears and rising interest rates causing many companies to shed jobs, consider this three-step approach to avoid wrecking company culture and losing trust in the workplace.
After one of the hottest job markets in generations, the economy might be cooling.
Rampant inflation, which in turn has seen the Federal Reserve raise interest rates, has many forecasting an economic recession. Tech companies have been some of the most visible orgainzations to tighten their belts, with companies like Meta, Coinbase, Oracle and Netflix shedding jobs last year. Now the cuts are hitting other tech giants, including Microsoft, Amazon and Google.
Even the best workplaces aren't immune to these economic headwinds. Employees are losing trust in their workplaces.
"The best workplaces go through layoffs; it's part of business," says Marcus Erb, vice president of data science and innovation at Great Place To Work®. "Nobody likes to have it happen, but it has to happen sometimes."
Who gets cut has profound ramifications for efforts to diversify the American workplace. When Netflix laid off staff, former employees noted that many of those let go had been working on diversity, equity and inclusion across the company.
How companies conduct layoffs speaks volumes about how great employers distinguish themselves from merely average ones. A great workplace finds ways to care for employees even as they transition out of the organization. And companies that are serious about diversity, equity, inclusion and belonging take identity into consideration when pondering staff cuts.
A moment to prove your culture
Restructuring is a tipping point for company culture. Whether it's a merger, acquisition, divestiture or workforce reduction, how a company handles change will impact its culture for years to come.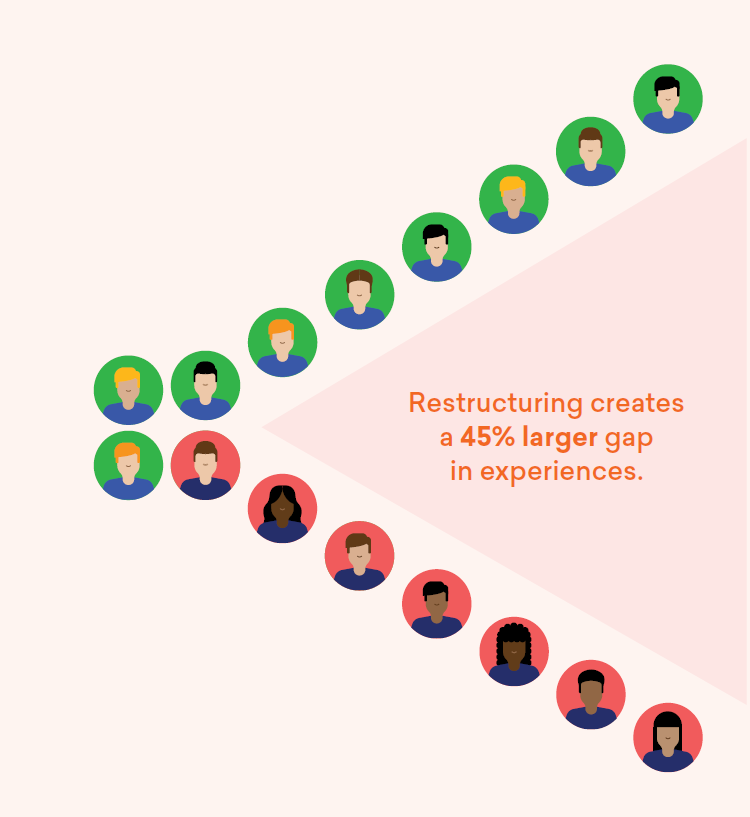 Researchers from Harvard and Wharton reviewed data from Great Place To Work, revealing that restructuring often widens the gap in the workplace experience for marginalized employee groups:
The gap for women and minority employees grew by 45% when a company underwent a merger, acquisition, divestiture or layoff.
Conversely, companies that supported five key employee groups (women, front-line workers, hourly male workers, long-tenured employees, employees of color) not only outperformed the competition, but saw stock market gains even as the overall economy sank. In a recession, these companies that care for their employees saw their financial performance improve.
"When you have these major economic downturns as a company, everybody's got to pitch in and do their best, adapt and be resilient," Erb says. "And if [employees] don't trust you, they're not going to do that."
How great workplaces handle layoffs
The data reveals strategies used by the best work cultures to mitigate the impact of layoffs on employees and employee experience. The overall approach can be separated into three separate phases: before, during and after.
1. Before a layoff
Leaders must double down on communication and clarity, says Tony Bond, chief diversity and innovation officer with Great Place To Work. Workers must be left with no doubt that layoffs were a last resort.
"If it doesn't feel that way, if you haven't cut costs in other areas (travel, expensive meetings) and you lay off people, then the optics on that aren't great," Bond says.
When Hilton, a recurring member on the Fortune 100 Best Companies to Work For™ list, had to lay off employees in 2020 due to the COVID-19 pandemic, its leaders didn't mince words.
"Never in Hilton's 101-year history has our industry faced a global crisis that brings travel to a virtual standstill," President and CEO Chris Nasetta told employees.
And employees need to keep hearing from leaders throughout the process.
"It's clarity around communications, it's the quality of the communications, and it's also the frequency of the communications," Bond says.
This is also the time to ask employees for input. Sourcing ideas from across the organization on cutting costs can help employees feel like they have some control over the situation. However, only in companies that have embraced a For All™ culture, where everyone is empowered to innovate, will such efforts be possible.
An emotionally intelligent appeal to workers stands in contrast to companies that have tried to bully workers into resigning of their own free will. Turning up the pressure or asking workers to self-select as someone who doesn't fit in isn't the same as asking your team to help find cost-cutting measures to save jobs.
2. During a layoff
Great workplaces go the extra mile to personalize messaging, extend benefits to affected employees and even help them find new opportunities. Hilton worked with partners during the COVID-19 crisis to find landing places for thousands of displaced employees at organizations like Amazon, CVS and Walgreens.
Showing care also means thinking about how a layoff might disproportionately hit underrepresented groups.
"You really have to look at the landscape of who is being impacted," Bond says. That means doing careful analysis and resisting the urge to limit the discussion around downsizing to a handful of leaders.
"Typically what happens in a downturn is that leaders get together and huddle separate from everyone else, try to figure things out and then come to people and articulate what's going to happen," Bond says. The C-suite might want to restrict information around a decision to cut jobs, but Bond argues that the best companies do the opposite.
"They broaden their focus," he says. "They talk to more people. They've engaged their people around decisions to be made. That process alone helps them really see it through the lens of belonging or diversity, equity and inclusion."
When organizations get this wrong, the results can make headlines. When Better.com cut ties with hundreds of employees over Zoom, the callousness of the act made headlines.
Companies that show care work to extend benefits to affected workers or even keep communication channels open so that team members can be rehired if the market improves.
3. After a layoff
The best workplaces make sure to engage remaining workers who are perhaps grieving their departed colleagues as well as taking on more work due to staff reductions. Failing to meet the moment with empathy will destroy trust.
"Even if you lay people off, you're still going to have people working for you—and they're paying attention to how you handled the layoff," Erb says.
Giving employees an opportunity to express themselves isn't expensive or complicated. It just requires leaders willing to provide space.
"Break people out into smaller groups and give them a few questions," recommends Bond. "Just explore: 'How are you experiencing things today?' It's really as simple as that."
Another important step is to connect remaining employees back to your company's purpose. When trust is fractured because a friend is laid off, employees are looking for something that will let them feel good about continuing to work for the organization, Bond says.
"That's a time for organizations to really highlight the purpose and the mission and make sure people are rallied around the purpose."
Leaders should be prepared for some strong emotions.
"It's almost like a death in the family, and you need to process it with the people that are close to you," Bond says.
Subscribe to our newsletter
Improve employee retention and engagement with the latest insights from our data and research team. Subscribe to the Great Place To Work newsletter and learn how to create a great workplace culture.
---