In a recent employee wellbeing research study, only 16% of U.S. employees are in a high state of well-being, compared with 58% at the 100 Best Companies to Work For.
There are many challenges CEOs are currently grappling with, but there's arguably one that's top of mind: How can we stop the revolving door of employee turnover? How can we get employees to like it here?
Executive teams have been head-down in meetings in search of those answers. Many have attempted to repair broken company cultures with band-aid fixes such as meditation apps and fancy gifts. But, like any problem in life, the root cause must be uncovered—and fixed at that level—if they want a long-lasting solution.
The current state of employee well-being is grim. In the employee wellbeing research study, only one in six employees in the U.S. is flourishing, or in a high state of well-being at work, according to a survey of more than 14,000 people from 37 countries from Great Place To Work® and Johns Hopkins University's Carey Business School.
"On one hand, employers seem concerned about retention of talent as expectations of the workforce may have shifted," says Richard Smith, professor practice and vice dean for education and partnerships at Johns Hopkins University. "Yet, on the other hand, we find that only 16% of employees are flourishing—pointing to a clear opportunity to address employee well-being in U.S. workplaces."

The 100 Best Companies to Work For have adapted to those expectations and consistently go above and beyond to support employees' full selves in and outside of work, which includes support for their families and communities. Well-being is viewed as "whole-being" at these companies, where 58% of employees are flourishing.
It's not a mystery as to why.
Respondents in the Great Place To Work/Johns Hopkins employee wellbeing research study consistently experienced significant gaps in purpose and connections—two areas needed to flourish at work. Nearly half reported not finding meaning in their work, while 39% felt their work does not make a difference. Thirty-five percent didn't feel a sense of belonging and one-quarter felt lonely at work. And it's even tougher for employees from marginalized communities. Employees are 9% more likely to feel lonely at work if they identify as part of a marginalized group based on their ethnic origin, race, color, religious beliefs, or place of birth.
When employees then ask themselves, "Why do I work here?" and can't come up with a good answer or don't feel connected to their employer, they'll walk out the front door.
But that's not the case for the majority of employees at the 100 Best Companies to Work For, who feel a sense of purpose and experience authentic and caring connections. According to Great Place To Work research:
9 out of 10 feel cared for
4 out of 5 look forward to coming to work
4 out of 5 feel psychologically and emotionally healthy
4 out of 5 find meaning in their jobs
"While the numbers can be daunting, there is so much hope on the horizon for employee well-being," says Michael C. Bush, CEO of Great Place To Work. "Great workplaces are showing us all a better way is possible. When that happens, employees everywhere will thrive and reach their full potential."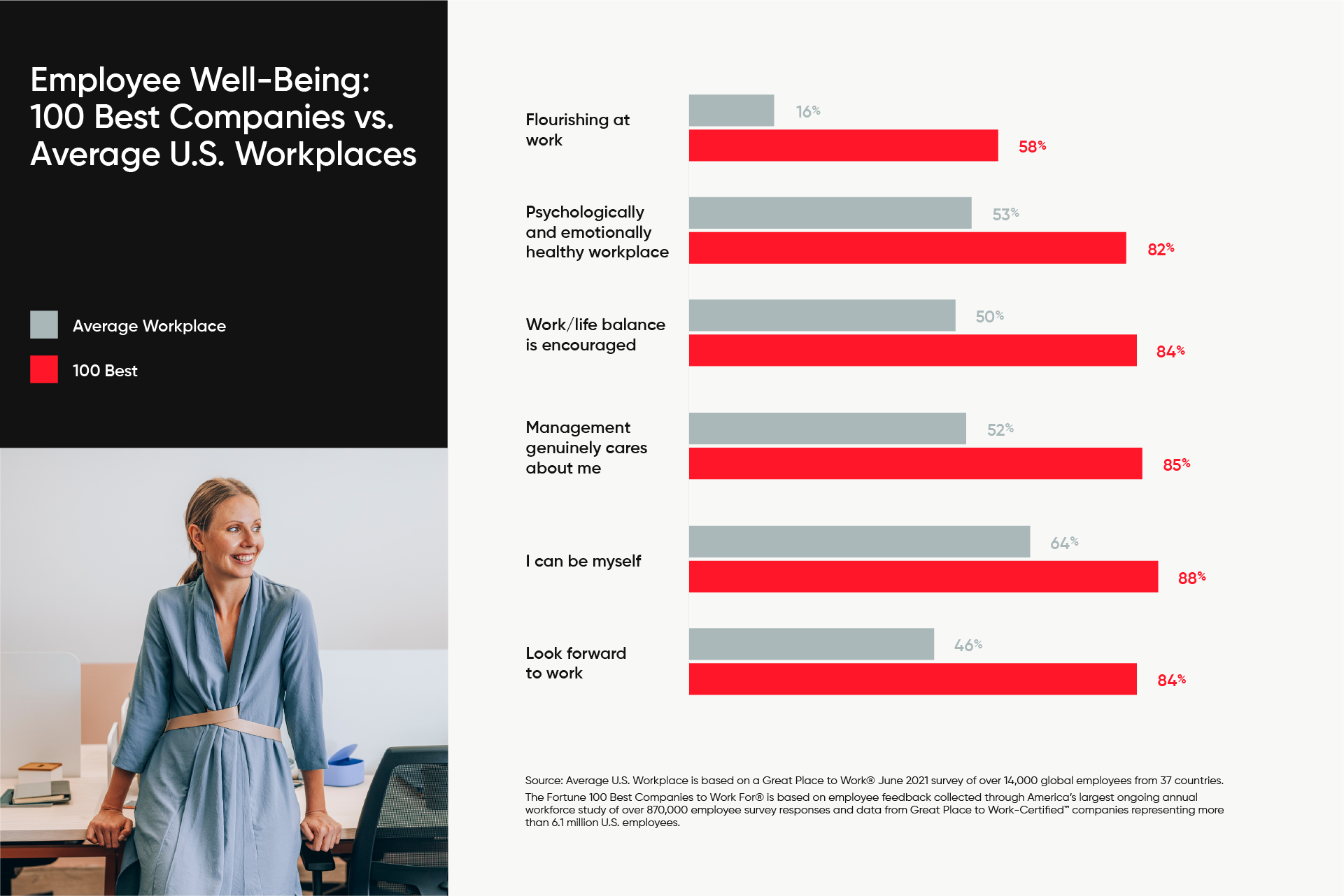 How the 100 Best Companies to Work For cultivate employee well-being
Well-being encompasses mental and emotional support, sense of purpose, financial health, and meaningful connections. When employees work in a climate of well-being, they're three times more likely to intend to stay with their employer and three times more likely to recommend their employer to others.
The 100 Best Companies to Work For in 2022 go below the surface level of caring in order to support employees holistically. Here's what that looks like at the top 10 companies.
Listening is prioritized
Employee needs are always evolving and individualized. This makes surveying, listening, and measuring essential tools to understand current employee experiences and tailor strategies to support them.
Salesforce introduced monthly employee well-being surveys during the pandemic to learn how employees were feeling and help address top stressors. Survey results are published in a dashboard for all employees to view, so they understand they aren't alone, their concerns are heard, and they can trust leadership to take action.
Leaders at Wegmans hold at least two "Open Door Days" per year, dedicated to one-on-one time with any employee who signs up to discuss any topic with store managers, HR, or executives. Often, employees access leaders two, three, or four levels above their direct supervisors.
Hilton rebranded its mid-year performance check-ins to holistic check-ins to make sure leaders were intentional in their conversations to not only support performance, but their team members' total well-being. Leaders have been taught to hold intentional conversations to help their workforce discover, or rediscover, their purpose.
At the 100 Best Companies to Work For, 85% of employees believe management shows sincere interest in them as a person—not just an employee—compared with 52% at an average workplace.
Inclusive cultures are nurtured
Employees at the 100 Best Companies to Work For are empowered to be their authentic selves, and not asked to deny who they are on the job. This can be encouraged through employee resource groups and diversity, equity, inclusion, and belonging programs.
Rocket Companies raised the level of awareness about what employees need to be their authentic selves by introducing a new type of paid time off (PTO) called "Personal Significance Days." These days are in addition to the existing PTO bank and can be used at the discretion of employees to observe any day or holiday that is meaningful to them, providing freedom to choose what is most important.
Cisco cultivates a conscious culture, in part, through its inclusive e-learning and development solution, Building Skills for a Conscious Culture, launched in the U.S. in 2020. It integrates anti-harassment training with bias mitigation training, engaging employees with emotionally immersive scenarios.
And what has become known internally at Accenture as "Conduct Counts" are five locally relevant, yet globally applicable standards to guide how the organization thinks and acts across its diverse culture. This framework creates a foundation for a positive, respectful, and inclusive work environment to inspire its people, reflect who they are and who they want to be as a company.
At the 100 Best Companies to Work For, 88% of employees feel like they can be themselves as opposed to 64% at an average workplace.
Well-being extends beyond the workplace
Mental health took center stage as the pandemic, remote work, social unrest, and burnout weighed heavily on many.
Cisco offers a "Safe to Talk" community where employees can access resources for mental health support and learn how to offer support to one another. It also features a manager's toolkit, where leaders can access tips on how to effectively listen and respond to the needs of their teams. It expanded it with more resources and a way for employees to share stories about mental health.
Mental wellness is also a priority at Hilton, where the company's "Thrive at Hilton" platform provides team members with access to a dedicated counselor in the U.S. and features a global internal hub with a variety of mental health resources. The site empowers leaders to discuss mental wellness, check in with members of their team, and share how they care for their own mental wellness.
Similarly, NVIDIA launched a well-being site as a one-stop shop for resources around mental, physical, family, and financial health. Dozens of webinars were organized on topics including mindfulness, work-life balance, and positive parenting during the pandemic.
Accenture rolled out a new grief and loss support program, providing its workforce with one-to-one counseling from licensed therapists as well as access to numerous resources on coping with loss.

Families are supported
Employees at the 100 Best Companies to Work For are supported holistically, and that support extends to families. American Express, for example, offers resources for elder care. Employees have 24/7 access to care consultants who can help arrange in-home care for an adult loved one who may need special assistance while recovering from an illness or unexpected injury.
During the pandemic, it expanded back-up care from 20 to 30 days and reimbursed employees if they couldn't find care through the company's vendor and had to secure care within their personal network.
Similarly, Capital One offers all workers dependent care benefits, including 15 days of back-up care through a national network of fully screened and vetted care centers or in-home care options. Due to this benefit, parents and caregivers saved more than 7,700 workdays between January and November 2020. It also added options for discounted tutoring services for parents struggling with children in the virtual school environment.
David Weekley Homes also views employees' families as an extension of the organization and offers free 24-hour, 365-day access to Marketplace Chaplains USA for all employees and their immediate families in need of guidance, advice, or support. It also provides college scholarship for employees' children based on tenure: $500/year per child for one to four years tenure; $1,000/year per child for five to nine years tenure; $2,000/year per child for 10 years tenure.
Local champions are activated
Well-being is an experience shaped by the personal interactions and group dynamics that employees experience daily. Enabling employees at the team level to serve as role models and advocates can inspire others to also advocate for a climate of well-being.
At Wegmans, its peer- or manager-nominated "Who We Are" awards catch employees in the act of living one of its values as part of our C.A.R.E. recognition program. Its highest-level recognition, Superstar Award, acknowledges incredible service where multiple values are demonstrated while personifying "Always Help Others."
As many are eager to put the pandemic in the rear-view mirror, Smith encourages organizations to follow in the footsteps of the 100 Best Companies to Work For.
"As America returns to the workplace following the pandemic, many managers are reverting to former practices, yet, employee expectations have shifted," Smith says. "Taking a holistic approach to employee well-being and equipping managers with more inclusive practices will be critical to retaining talent and building a great workplace for all."
Learn how to become a Great Place To Work-Certified™ company and apply to this or other Best Workplace lists.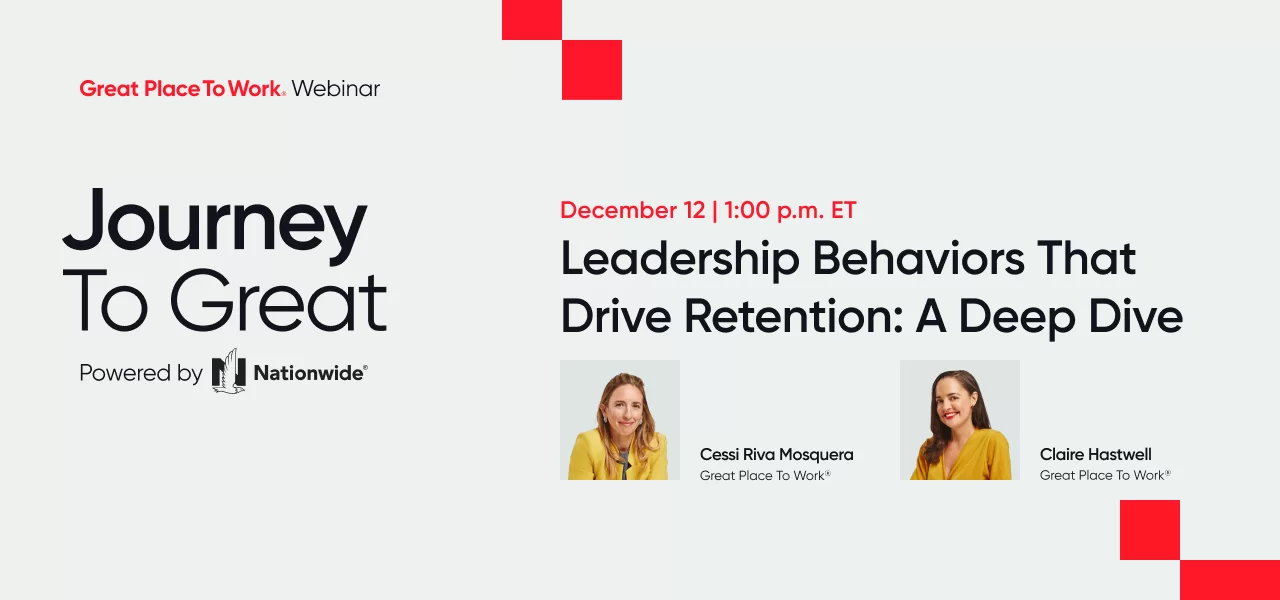 ---